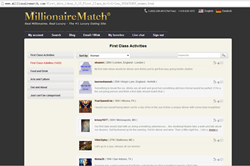 (PRWEB) October 29, 2014
MillionaireMatch.com, which boasts 2,256,335 attractive singles—and counting, has a diverse array of members. Among them are doctors, lawyers, CEOs, fitness models, beauty queens, and even professional athletes and Hollywood celebrities. To reflect the diversity of the members, the site changed the name of its date ideas section from "Millionaire Activities" to "First Class Activities".
Sammy, the leader of MillionaireMatch.com, says of the change, "Recognizing that we have diverse members, most of whom are 'first class', we felt that changing the name from 'Millionaire Activities' to 'First Class Activities' was more inclusive. We have countless successful and attractive members on the site, and we did not want any of them to feel excluded from our advice on date ideas." She adds, "The ideas offered in the first-class activities forum reflect the diverse personalities of our users, so it was only appropriate that the name of the forum do so as well."
Among the ideas included in the first-class activities forum are: getting pampered at the spa, playing a round of golf, visiting an art museum, boating, going to a concert, fine dining, and even sky diving. Whether users connect to a CEO or a fitness model on the site, the first-class activities ideas are certain to include dates to fit every couple's lifestyle.
MillionaireMatch.com has recently announced other changes to improve members' experiences, including a change to the "see how active a user is" feature, updating the process for getting a "certified millionaire" verification badge, and adding a new distinction: "certified VIP". The "certified VIP" badge is another change that reflects the site's commitment to its diverse member base. The "certified millionaire" badge increases members' views and messages by 2000 percent, and it is anticipated that the "certified VIP" badge will bolster views and messages for qualified users.
MillionaireMatch.com
MillionaireMatch.com is dedicated to connecting wealthy men and wealthy women singles. In its 13 years, it has received a number of accolades, including being voted "Best of the Web" by Forbes.com. It has been featured on CNN, ABC, and CBS, and The Wall Street Journal.
For more information, please visit http://www.millionairematch.com/.