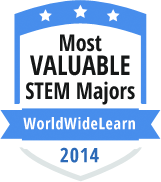 Foster City, CA (PRWEB) October 27, 2014
Ranking #1 for employment opportunities nationally, and in the top ten for program availability, Information Technology was determined the best Science Technology Engineering and Math (STEM) major by WorldWideLearn.com in their study of the 50 STEM Majors with the Best Value 2014. The spotlight career for this major, Information Security Analyst, has a projected growth rate of 36 percent between 2012 and 2022. This fact, along with a national average salary of $91,210, landed the major in the top spot.
Coming in a close second is Computer and Information Sciences, with an average national income of $93,000 in 2013, as well as a solid rating in the educational opportunities category. The field of Mathematics asserted itself as a strong third for best overall value. Mathematics ranked particularly high in the accessibility category, with more than 500 programs available nationally, and an average national salary of $103,310.
Here are the top 10 STEM majors, according to WorldWideLearn.com's study:
1. Information Technology
2. Computer and Information Sciences
3. Mathematics
4. Civil Engineering
5. Computer Engineering
6. Computer Programming
7. Environmental Engineering Technology
8. Nuclear Engineering Technology
9. Petroleum Technology
10. Marine Sciences
For additional details on this study, including career spotlights and tuition costs, please see WorldWideLearn.com's article on the 50 Stem Majors with the Best Value 2014.
Methodology
This study examined 50 STEM majors based on proprietary metrics developed by WorldWideLearn.com that include: Educational Affordability, Educational Opportunity, Earning Index and Employment Opportunity. These metrics used the following data sources:

Average national income, according to the U.S. Bureau of Labor Statistics (BLS)
Job growth projections (2012-2022), from the BLS
In-state tuition data (2013-2014), according to the National Center for Education Statistics (NCES)
Educational program data, from NCES (2014)
About WorldWideLearn.com
WorldWideLearn.com is owned and operated by QuinStreet, Inc. (NASDAQ: QNST), one of the largest Internet marketing and media companies in the world. QuinStreet is committed to providing consumers and businesses with the information they need to research, find and select the products, services and brands that meet their needs. The company is a leader in visitor-friendly marketing practices. For more information, please visit QuinStreet.com.