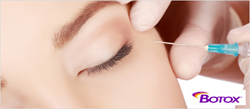 Results are exceptional—never overdone, always youthful and attractive
Vancouver, BC (PRWEB) October 28, 2014
Dr Roz Kamani now offers Botox Cosmetic at her Vancouver Botox Clinic, called Kitsilano Skin Care Clinic. There are two major kinds of Botox treatments offered by Dr Kamani, that is, Botox Cosmetic and Botox Medical. Botox is a therapeutic agent that has been used for more than 20 years in the medical field and has proven to be safe and highly effective. Providing dramatic results, Dr Kamani's Botox treatment works by stopping the message from the nerve to muscle, thus relaxing the muscle and reducing visible lines, creases and wrinkles. Areas most commonly treated include frown lines, forehead creases, and fine lines around the eyes, known as Crow's Feet.
Dr Kamani has been providing her clients with Botox facial treatments since 2003 at her Vancouver Botox Clinic. As a result of her experience and expertise, she is regarded as one of the most renowned Vancouver Botox specialist. She is also a well-known premier Vancouver Botox specialist, and one of the most respected and skilled physicians in this field.
"Dr Roz Kamani's years of experience have enabled her to master the intricacies of Botox treatments to bring out her patients' own natural beauty, following their natural facial contours and anatomy," states a company representative. "Results are exceptional—never overdone, always youthful and attractive."
About Dr Roz Kamani
Dr. Roz Kamani is a respected expert in Medical Aesthetics for over thirteen years, dedicated to revealing, protecting and enhancing the full health and beauty potential. Dr. Roz Kamani and her friendly staff offer sought-after treatments and procedures, such as Botox to treat facial and neck wrinkles, injectable Dermal Fillers for facial contouring, as well as volume enhancement and non-surgical facelifts at her Kitsilano Skin Care Clinic. Dr. Roz Kamani is recognized as one of the premier Vancouver Botox specialists. She also has advanced training in Medical Aesthetics and the use of neuromodulators (Botox) and Dermal Fillers, refining her skills in non-surgical face-lifts and beautification using combination therapies.
For more information, log on to http://rozkamani.com/ or call 604.222.2111.