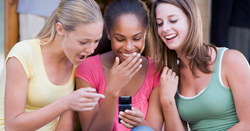 Safety comes first before finding your soul mate online.
London, UK (PRWEB) October 27, 2014
Internet Dating might be a wonderful tool for many people to find potential matches but what about Online Dating Scams and pitfalls? Is it safe for parents to let teens and youth in general explore Internet Dating? NoBullying examines the pros and cons of internet dating in an article released today.
For an example, it is becoming "common knowledge" that people lie on those websites. Using altered or fake photos and alternate identities is actually quite common on online dating websites. Does that count as catfishing? It certainly does.
Catfishing is the common term for portraying an online persona using pictures of other people. It's important for people who date online to recognize the signs of catfish online dating. This can be tricky, because there are three different types of catfish. Bored, secretly in love and lonely describe the motives of most catfishing people and they commit their frauds for various reasons. The bored catfish is a sadist who will never have any feelings for the other party. This type of catfish is usually someone young as they find the immature behavior to be amusing. These catfish live for nothing more than to deceive other people online. Loneliness and heartache don't factor into their decisions at all, and they soon lose interest in the people they mislead.
Catfishing is a despicable act, brought on by a despicable society. But looking at other "dating apps" such as Hot or Not and Tinder, it is quite obvious that users place so much emphasis on physical appearance that it becomes the deciding factor in who becomes a couple. If the perfect man or woman was on an online dating site, most people would pass right by, because they want someone with green eyes for an example. It is quite evident that when looking at internet dating or online dating is that sexuality and physical attraction are essential decision making factors but some even go the extra mile by only showing "hot" people,therefore opening the pipes for waves upon waves of objectifying women.
It is quite imperative for parents and caregivers to have serious talks with teens and impressionable youths about the pros and cons of being on an online dating website as well as how to "play it safe" when it comes to revealing information online.
Ciaran Connolly, Co Founder of NoBullying says "While some people praise internet dating sites for allowing them to meet their perfect match, it is still imperative to discuss the cons of online dating such as catfishing and the like. Safety comes first before finding your soul mate online."
He added that parents and teachers should make a point to educate the younger generations about the sad outcome of bullying online. According to Connolly, it is quite imperative to press for more firm laws condemning all acts of cyber bullying and cyber harassment.
NoBullying.com features many pages dedicated to parents, teens, teachers, health professionals as well as posts related to cyber safety and the latest news about law making concerning curbing Bullying worldwide as well as inspirational Bullying Poems and famous Bullying Quotes.
The website regularly updates its bullying statistics and cyber bullying statistics as it is essential to understand how widespread the bullying epidemic is. It also regularly runs cyber bullying surveys and questionnaires to get recent updated statistics on everything related to cyberbullying.
He also added that anyone suffering from bullying in any form or way can always find advice and help on the NoBullying website – but if anyone is suffering from severe bullying or cyber bullying, the best thing is to talk to someone locally – a parent, teacher or local organization that has been set up to help with specialized councilors to deal with this topic.