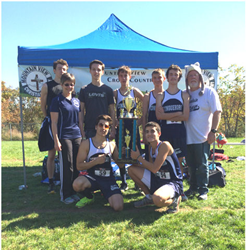 This year these runners not only learned about starting and finishing a race, but they also learned about starting and finishing commitments in their lives.
Winchester, Virginia (PRWEB) October 29, 2014
On Saturday, October 25th, 2014, Mountain View Christian Academy's Middle School and Varsity Cross Country teams ran the VACA State Cross Country Tournament at Faith Christian Academy in Roanoke, Virginia.
Making history for the Mountain View Christian Academy, the middle school girls placed 3rd, the middle school boys placed 2nd, the varsity girls placed 2nd, and the varsity boys placed 1st, bringing home the State Championship.
Last year MVCA was represented by only two runners, but the school had no qualifying teams (a qualifying team consists of 5 runners) for the event. MVCA's cross country program saw a dramatic increase in participation this year, with approximately 19 percent of the students enrolled in the school that were old enough to run cross country participating in this state run. For the first time in school history, middle school girls, middle school boys, varsity girls and varsity boys all had teams that were eligible. In addition, the team consisted of 4 foreign exchange students.
Teams individual placement:
Boys' Varsity Team - won first place by one point: Josh Medina - 5th place, David Snyder - 6th place, Matt Coughlin - 7th place, Michael Dhom - 8th place, Julian Tahov - 11th place, Kallin Presley 15th place, Nathan Lantz - did not run.
Girls' Varsity Team - won second place: Savanna Daniels - 5th place, Leoni Titscher - 8th place, Danielle Newlin - 10th place, Svenja Neunast - 11th place, Yejin (Julia) An - 12th place.
Boys' Middle School Team - second place (missed first place by one point): Eli Smith - 2nd place, Nathan Nader - 8th place, Zach Harner - 9th place, Justin Coughlin - 11th place, Ethan Higgs - 14th place
Middle School Girls - won third place: Hanna Brewer - 5th place, Heather Crout - 9th place, Bethany Cornwell - 10th place, Cynthia Fairbanks - 17th place, Kelsey Ganoe - 18th place, Hallie Dhom - 19th place
Led by Coaches Trudy Keiter and Gary Bordelon, these students trained through the beginning of the school year and participated in races with other public and private schools in Virginia and West Virginia. Both coaches were amazing inspirations to students during the Bible study the night before the race in a Roanoke hotel lobby of the Fairfield Inn as Coach Keiter shared her experiences as a marathon runner. She explained how God gave her strength and courage to take on an obstacle so large she knew she would not be able to complete by herself. Through the power of the Lord and the relationship she had with Him, she endured through the pain and completed the race giving every last ounce of energy she had. Coach Borderlon went on to share the how similar people in the Bible had turned to God for strength in insurmountable, unachievable experiences and how the same God will be there for the team during the run.
Through their faith, runners prayed and sang to the Lord before their run and God's hand led them to their victory. Runners gave their victories to God as they crossed the finish line collapsing with pure exhaustion at the finish line.
"Those runners were true to their faith and listened whole heartedly to their coaches giving everything they had to glorify God. It was wonderful to see God's hand in the runner's accomplishments carrying them through. I can begin to explain how proud I was to see all those runners carry out their faith on the course," quoted a parent of two children at the school.
Coach Gary Bordelon expressed his pride in his team, "I couldn't have been prouder of all four teams. All 23 students ran the best race of the entire year and they gave 100 percent through the whole race. This year these runners not only learned about starting and finishing a race, but they also learned about starting and finishing commitments in their lives. For most of them, it was their first year running. It is exciting to see the program go from a few kids to four full successful teams. We only have one graduating senior which means our program has a good building base for future years."
Mountain View Christian Academy is the only accredited Kindergarten through 12th grade private Christian Academy in Winchester, Virginia. Since 1992, Mountain View has been providing a well-rounded Christian education, which includes ACSI accreditation, state and nationally recognized sports programs, and both local and international mission opportunities. For more information on Mountain View Christian Academy please visit http://mvca.ccmv.com or call 540-868-1231