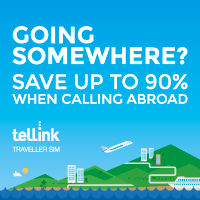 Create Ancillary Revenue as a Tellink Partner
Antwerp, Belgium (PRWEB) October 28, 2014
Tellink launches its groundbreaking Traveller IM Affiliate Program at WTM London (3 - 6 November 2014). Tellink's Affiliate Program is a smart solution to a major challenge facing the travel industry worldwide: shrinking margins and increasing global competition spurred the need to offer clients reliable complimentary products and services, without large up-front investments. Moreover, the Tellink Traveller SIM users benefit from staggering discounts of up to 90% on roaming services.
For many years, Tellink has been offering roaming services for voice, sms and data leading to substantial savings to travelers worldwide. At WTM Tellink will introduce its affiliate program that reinforces the travel industry's business value proposition and generates ancillary revenue. No strings attached, no extra red tape: Tellink takes care of the sales and support.
There's a win for the travel industry: extra service and extra income. There's also a win for their clients. Offering travelers a Tellink SIM is offering them real added value. It's a reliable comfort service for voice, sms and data roaming at substantial lower prices saving them up to 90%.
Tellink Traveller SIM economizes on money and time and is very easy to use. Just one SIM card assures worldwide usage, so customers have one phone number and are reachable wherever they are. This one card connects to 620 mobile networks in over 200 countries, allowing ultra-cheap transmission of data bundles: voice, sms and data. On top of that, Tellink Traveller SIM guarantees free incoming calls in over 60 countries.
About Tellink: Tellink's track record looks impressive. Since the start-up in 1996, the independent telecom provider caters to thousands of SME, SOHO and residentials in homeland Belgium. The smart technology soon found its way internationally, so Tellink had built an extensive history in forging relationships and supporting worldwide partners, offering cheap, reliable and comfortable solutions for full mobile communication. As a mobile virtual network operator (MVNO) and mobile virtual network enabler (MVNE) Tellink uses the infrastructure and roaming services operated by Orange. For Traveller SIM, Tellink collaborates exclusively with top operators.
Get to know all about Tellink, our product features and the advantages of our unique affiliate program: http://www.tellinkroaming.com/wtm-affiliate-partners
For more info please contact:
elie(at)tellink(dot)com
+32475281515