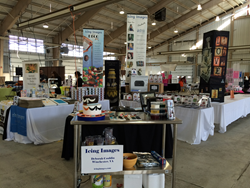 Since I am not a decorator, I was having so much fun at the ease of using this product in so many creative ways!
Westminster, Maryland (PRWEB) October 28, 2014
Last weekend, Icing Images® presented their edible imaging products and new edible cake decorating medium, DECOgel™ at the Great American cake show in Westminster, Maryland.
Although considered a smaller show in the industry, Icing Images' booth was busy with show attendees eager to watch the demonstration of DECOgel, a gelatin-base decorating medium, by company owner Deborah Coughlin.
Customers were amazed at DECOgel's unique characteristics. The product resembles Isomalt, a beet-based sugar used to create sugar sculptures. DECOgel does not hold structure, rather it remains flexible and unlike Isomalt it can go in and out of the refrigerator and freezer, making it ideal for cake decorators and bakers to work with. Visitors to the Icing Images booth found the most exciting feature was the fact that it remained flexible, tasted great and became usable at such a low melting point making it safe to use. In addition, patrons loved the shine it left when making jewels and gems.
"It was fun to just have time to play. As the owner of Icing Images, I don't always get to play, I only get to test new products. Since I am not a decorator, I was having so much fun at the ease of using this product in so many creative ways!" Deborah Coughlin, Icing Images owner.
In addition to DECOgel, Icing Images showcased the Spellbinders® Sweet Accents™ for Icing Images. When introduced last year, the Sweet Accents was the first truly food safe die cutting and embossing system for the sugar artists industry. Using Icing Images Premium Icing Sheets and the Sweet Accent food safe dies, decorators can create a huge array of shapes to decorate their sugar art desserts. Icing Images debuted new die cutters designed to work with the system at this event.
The Great American Cake Show began in 2006 with the goal to encourage and promote the sugar arts and the International Cake Exploration Societe' (ICES), a not-for-profit organization. Both organizations promote and provide opportunities for continuing education and the development of future sugar artists and enjoyment of the art from a sharing environment.
Edible Ink printers were featured showcasing Icing Images exclusive programs iPrint™ and iDesigns™. iPrint is a free online software program that allows customers to customize their edible prints. iDesigns, unique to Icing Images, showcased the brilliant colors the vibrant inks printed with edible designs, a popular product at the show.
Icing Images has been a leading distributor of edible photo and edible paper art supplies for over a decade, offering edible ink printers, edible ink, icing sheets, electronic and manual die cutters, and DECOgel to retail bakeries, home bakers and cake decorators.