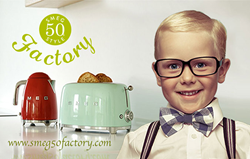 "When the kids met the grown-ups!"
(PRWEB UK) 29 October 2014
"When the kids met the grown-ups!" is a call to action created in conjunction with Userfarm_Content Creators http://www.smeg50factory.com
The Smeg Factory is a creative, online platform that brings fans together by allowing them to share and communicate through video.
Smeg Factory is a space to co-create, collaborate and get involved; A place where different cultures across the globe meet in a melting pot of creative talent. But above all the Smeg factory is a space for Smeg fans to engage with their favourite brand.
Through this new platform, Smeg will broaden its understanding of its fans by opening up this brief to Userfarm's creative crowd. Embracing a more creative approach will enable Smeg to uncover fresh ideas and discover new and innovative ways to communicate with its target audience.
The first call to action "When the kids met the grown-ups!" is live on http://www.smeg50factory.com. It invites people to explore the history of Smeg, by sharing their compelling video stories and creative concepts. Stories submitted should express their ambitions and experiences, and demonstrate the way in which they view their own world.
The story must do two key things; introduce the Smeg Factory and celebrate Smeg's new '50s Line of products.
This product line is the perfect union of practicality and aesthetics, evoking the style, panache and essence of the '50s era.
To participate in this call, please follow the instruction on http://www.smeg50factory.com and upload videos by the 11th December 2014. There are large rewards for the filmmakers selected!
Original source - http://blog.userfarm.com/news-centre-category/smeg-presents-smeg-factory/5541/