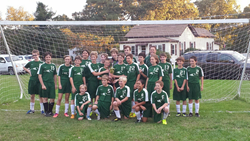 Gloucester, Va. (PRWEB) October 27, 2014
Ware Academy is pleased to present its 2014 Varsity Soccer team champions. The team won the Independent School Athletic Conference (ISAC) championship, held at Chesapeake Academy Oct. 23, completing an undefeated 2014 season.
BACK ROW (left to right): Jakob Harris, Spencer Crittenden, Charlie Revere, Henry Singleton, Coach Scott Haley
MIDDLE ROW (left to right): Russell McMurtrie, John Walsh, Claire Rae, Drake James, William Revere, Sam Haley, Logan Marshall, Cody Carnes, Carlos Rodriguez, Ashlynn Boulay, Zak Webb, Pierce Lambert, Chris Morrison
FRONT ROW (left to right): Josh Ward, Noah Smith, Jacob Ward, Allison Hughes, David Mattox
ABOUT WARE ACADEMY:
Located one mile from Main Street in Gloucester's historic Courthouse district on a 19-acre campus, Ware Academy is a co-ed, independent day school for students in Pre-Kindergarten 3 through eighth grade. Ware Academy empowers each student to achieve academic excellence, emphasizing the development of mind, body and character.
The primary objectives are to educate the whole child to his fullest potential and for students to acquire a respect and a desire for learning in order to develop into independent, life long learners in preparation for productive and fulfilled lives.
Founded in 1949, Ware Academy is a non-profit, non-denominational, non-sectarian school promoting ethnic and racial diversity. Ware Academy selects students on the basis of academic potential and developmental readiness without regard to race, color, creed, or ethnic origin.
Ware Academy is accredited by the Virginia Association of Independent Schools, the National Association of Independent Schools, and the Education Records Bureau and the Secondary School Admissions Test Board. Ware Academy is also a member of the National Middle School Association, the National Junior Honor Society and the Association of Supervision in Curriculum Development.
Keep in touch with Ware Academy online at http://www.wareacademy.org, on Facebook at /WareAcademy and on Twitter @WareAcademy1.