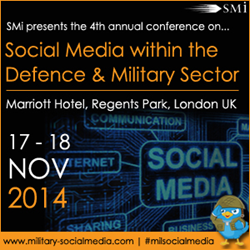 (PRWEB UK) 27 October 2014
In just 3 weeks' time SMi's 4th annual conference will gather MoD's from across the world and key military institutions, to discuss the latest developments and provide guidance on social media within the defence and military sector.
An expert panel of speakers including NATO, U.S Army, Airbus, European Defence Agency and Lockheed Martin will ask questions such as:
1. How does the DoD engage with key audiences? Department of Defence Director, Cathy Milhoan, presents an opening keynote on implementing successful social media strategies with insights into new communication tools and technology.
2. How can private sector social media trends be creatively applied to defence and military sectors?
3. Is the aerospace and defence sector homogenous in its application of social media? The Head of Communications from Airbus provides a case study driven presentation on using social media as a tool of crisis monitoring with a focus on QUANTAS and Voyager.
4. How does Lockheed Martin use digital media to engage with its myriad audiences? The EMEA Communications Director discusses Lockheed Martin's use of digital media, return on investment, plus more.
5. What are the challenges and opportunities with real time communications? Attendees will discuss real time marketing and learn how to measure the success of real time communications with the Norwegian National Security Authority.
6. How can HEROes (Highly Empowered and Resourceful Operatives) make a difference to social media communications and management in defence and militaries everywhere?
7. What are the key elements of community management? Attendees will learn how to build traction with their key audience and make the most from available resources.
8. What is NATO's digital outreach programme and why is a multi-platform approach considered to be the most effective? The Head of Communications from NATO will discuss best practise in engaging with multinational and multilingual audiences.
9. How can social media be utilised as a form of open source intelligence?
10. What online data is accessible for research purposes and how do you gain access? Delegates will explore the "what", "where", "why" and "who" in the opportunities and limitations of data mining.
For those who are interested, featured event content such as speaker interviews, is available to download at http://www.smi-online.co.uk/2014military-socialmedia2.asp
Social Media within the Defence and Military Sector 2014
17th - 18th November 2014 | Marriott Regents Park Hotel, London, UK
http://www.military-socialmedia.com
Join the conversation on Linkedin and Twitter | #milsocialmedia
---end---
About SMi Group:
Established since 1993, the SMi Group is a global event-production company that specializes in Business-to-Business Conferences, Workshops, Masterclasses and online Communities. We create and deliver events in the Defence, Security, Energy, Utilities, Finance and Pharmaceutical industries. We pride ourselves on having access to the worlds most forward thinking opinion leaders and visionaries, allowing us to bring our communities together to Learn, Engage, Share and Network. More information can be found at http://www.smi-online.co.uk