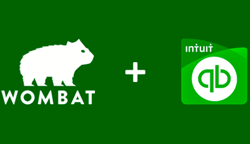 Bethesda, MD (PRWEB) October 28, 2014
Spree Commerce has released its upgraded, officially supported Quickbooks integration for Wombat. Wombat can connect any store to any service, and gives its users the most effective arsenal of integrations in ecommerce.
By utilizing the upgraded integration, Wombat users can connect to Quickbooks in just a few minutes. By connecting Wombat with Quickbooks you will be able to send new orders and returns, sync updated products, track inventory data in real time and maintain accurate data in Quickbooks.
"It's important that Wombat users have the option to quickly connect to a popular accounting software like Quickbooks," said Spree Commerce CEO Sean Schofield. "We believe making these connections should be as easy as possible, and just a matter of following a few simple steps, without having to write any custom code."
Get accurate and reliable access to Quickbooks by signing up for a two-week integration platform trial of Wombat. For technical documentation on integrating Quickbooks with Wombat, visit the Wombat knowledge base.
About Spree Commerce
Spree Commerce offers one of the most popular ecommerce platforms in the world. The modular platform allows for easy customization so developers and store owners can configure Spree for their specific needs. With an active and growing community, Spree is now one of the top open source technology projects in the world.
Spree Commerce is also the creator of Wombat, an integration platform that scales ecommerce businesses of all sizes. Wombat works with all leading storefront platforms to integrate mission critical services in just minutes, not weeks or months. With Wombat, you'll never worry about losing an order or connecting your ERP, POS system or fulfillment provider. Connect any store to any service, no custom code required. To learn more visit https://wombat.co and http://spreecommerce.com.