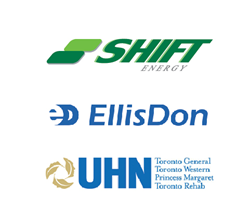 Toronto, ON (PRWEB) October 29, 2014
Saint John's SHIFT Energy Inc., and EllisDon, a Mississauga-based company, announced their partnership and plans to jointly launch a comprehensive, automated Energy Optimization System (EOS™) for Canadian and international healthcare facilities. The EOS solution has already been successfully deployed in major events facilities like Vancouver's Rogers Arena where it safely generated a major cost reduction in annual energy spend of over 20 percent, and significant reductions in Greenhouse gas emissions. SHIFT and EllisDon are now working with Toronto's University Health Network to pilot the world's first healthcare deployment of Intelligent Live Recommissioning technology (video: https://www.youtube.com/watch?v=wAyVIyDVhMg).
As part of the partnership, EllisDon will deliver infrastructure engineering services while SHIFT will provide the EOS software and supporting implementation services, together delivering a comprehensive energy optimization system to their clients.
"Partnering with SHIFT Energy has been a timely strategic decision for EllisDon as we continue to grow our range of services in design, installation and life-cycle management of intelligent buildings. SHIFT's expertise in innovative energy management solutions and our experience in delivering high performance projects mean more cost effective and timely installations for our customers," said Robert Barnes, Director Managed Services of EllisDon in explaining the rationale of the EllisDon / SHIFT Energy partnership.
The driving force for UHN to be part of this co-development project was because, "Environmental Stewardship, including the efficient use of energy and water, has long been a part of University Health Network, with building optimization being one of our key strategies. We're excited about potential of the EOS to help us meet and exceed our sustainability targets, as well as working with SHIFT Energy and EllisDon in the development of a new innovation with potentially game-changing impacts on energy efficiency and environmental footprint," according to Ed Rubinstein, Manager - Energy & Environment at UHN.
Commenting about the joint project, Brock Sansom, President and CEO of SHIFT Energy said, "With the strong project and integration capabilities of EllisDon, combined with the SHIFT industry leading energy software solution, we have a very unique opportunity to work with the visionary UHN. This creates for us the opportunity to be a contributing part of the creation of the world's leading Green Healthcare organization, the leader in cost effective sustainability."
About EOS
Energy Optimization System (EOS) eliminates energy waste from building operations by applying a concept called Intelligent Live Recommissioning – the automation of continuous commissioning. By applying patent-pending smart algorithms, cloud computing and Internet of Things (IoT) technologies, EOS optimizes a building's existing controls environment every minute of the day for efficient energy usage without sacrificing occupant comfort, compliance or equipment. EOS saves 50¢ to 80¢ each minute on average for each building, resulting in typical annual portfolio energy savings of 20% to 35%.
About SHIFT Energy Inc.
SHIFT Energy Inc. combines leading-edge software with engineering expertise to enhance energy performance for public and private enterprises. With its EOS™ solution, SHIFT Energy works with customers around the world to help reduce their energy costs and improve their environmental sustainability. Website: http://www.shiftenergy.com
Arick Disilva
SHIFT Energy Inc.
(506) 644-8441
info(at)shiftenergy(dot)com
About EllisDon
EllisDon is an employee-owned construction services company that delivers construction expertise to clients throughout the world. Incorporated in 1951, EllisDon has distinguished itself through innovative people and practices. Today, the company offers construction and project management services, in addition to a range of solutions in design, operations, sustainability and information technology. For more information, please visit http://www.ellisdon.com.
Dustin Luchka
EllisDon Corporation
(905) 896-8900
info(at)ellisdon(dot)com
About University Health Network
University Health Network consists of Toronto General and Toronto Western Hospitals, the Princess Margaret Cancer Centre, and Toronto Rehabilitation Institute. The scope of research and complexity of cases at University Health Network has made it a national and international source for discovery, education and patient care. It has the largest hospital-based research program in Canada, with major research in cardiology, transplantation, neurosciences, oncology, surgical innovation, infectious diseases, genomic medicine and rehabilitation medicine. University Health Network is a research hospital affiliated with the University of Toronto. For more information on energy management at UHN: http://www.uhn.ca/corporate/AboutUHN/Greening_UHN/Pages/uhn_energy_plan.aspx.
Ed Rubinstein
University Health Network
edward.rubinstein(at)uhn(dot)ca