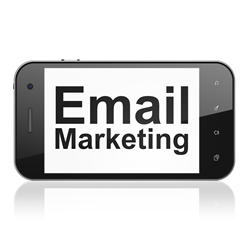 Features of e-marketing that business owners appreciate most include its low cost and trackable results.
(PRWEB) October 28, 2014
GetUWired, full-service marketing firm and Infusionsoft strategic partner, has just released a blog titled "Features of E-Marketing that Wow Business Owners." The blog details the many features of e-marketing that business owners love for their ease of use and great results. The blog can be read here.
What is e-marketing?
E-marketing is email marketing. Company newsletters, coupons, ads, and anything else that can be disseminated out to customers' email inboxes can be considered e-marketing.
Who uses e-marketing?
Businesses of all sorts use e-marketing to connect with their customers. Infusionsoft, a popular e-marketing platform that combines email automation with CRM and e-commerce, currently helps more than 24,000 small businesses reach their customers with e-marketing.
Feature #1: E-marketing is cheaper than traditional marketing
One of the features of e-marketing that business owners like best is its low cost. Compared to more old-fashioned methods of advertising like newspaper ads and billboards, e-marketing is significantly less expensive per message. Infusionsoft users can send out thousands of messages per month for the same price as one newspaper ad.
Feature #2: E-marketing provides tangible ROI
Infusionsoft and platforms like it allow users to easily see how many sales or customer interactions are a direct result of the company's email marketing efforts. This produces an accurate ROI number that businesses can take to the bank.
Feature #3: E-marketing allows you to peek into customer behavior
Infusionsoft users can delve into their campaigns and see which links were clicked, which videos were watched , and which emails were opened. This information gives administrators a clear picture of what their contacts are interested in -- a valuable tool for planning future marketing efforts.
Feature #4: E-marketing gets results 24/7/365
Email marketing never takes a day off, goes on vacation, or sleeps. E-marketing is always working and getting results around the clock.
Feature #5: E-marketing eliminates follow-up failure
Follow-up failure is the #1 threat to small businesses' long-term success. E-marketing eliminates follow-up failure by reconnecting with past customers and potential leads automatically, no matter how busy and chaotic regular business becomes. By reaching out to customers again and again, email marketing is great at increasing brand recognition and consumer loyalty.
GetUWired is a leader in Infusionsoft e-marketing
GetUWired provides Infusionsoft sales, setup and customization for companies all over the globe. For more information on Getuwired and e-marketing, call 877-236-9094 or visit http://www.GetUWired.us today.