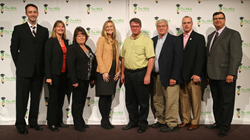 Washington, DC (PRWEB) October 29, 2014
Eighteen union-district teams, from the NEA Foundation's Closing the Achievement Gaps and Institute for Innovation in Teaching and Learning initiatives, gathered on Oct 16-17, in Washington, DC to engage in powerful discussions led by nationally renowned thought leaders, and, most importantly, work collaboratively to apply this knowledge to inform their work plans to improve learning conditions and student performance at home.
"The collaborative work of these teams makes the case that we can do more together: that our community as a whole is greater than the sum of its parts," said Harriet Sanford, President and CEO of the NEA Foundation. "This convening provides opportunities for our local leadership teams to share progress, challenges, and aspirations - coming together as colleagues, friends, and path-forgers."
Together, they are addressing complex issues of preparing all students for all opportunities after graduation through union-district commitment to creating strong instructional programs. To achieve these programs, some of the teams have designed and implemented comprehensive professional development and evaluation systems, such as Peer Assistance and Review, and evaluated hiring practices to recruit well-trained and effective educators. Union-district teams have also engaged their communities to contribute at higher levels in the success of all students.
The theme of this year's national convening, the eighth of its kind, was "Voices for Excellence and Equity - Students, Educators and Communities Speak Out." Key note speakers and panel discussions focused on how to bring to life the perspectives of educators, students and engaged citizens, to widen the field of view of the teams' conceptual lens and to improve public education.
Key note speakers were Marian Wright Edelman, Children's Defense Fund; Linda Darling-Hammond, Stanford Graduate School of Education, and Charles Blow, The New York Times. The convening also included a panel discussion with master teachers and one with student leaders. Find videos and the full agenda here.
"We truly believe that it will be through this kind of deep collaborative work that we will see the changes required to prepare every child for college and career," said Sanford. "We hope that our live stream video will enable many more educators to build on the conversations that we are having and the work that our teams are doing."
For more about the convening discussions, read Harriet Sanford's blog, "To help our most challenged students, listen to them – and embrace who they are."
ABOUT THE NEA FOUNDATION
The NEA Foundation is a public charity supported by contributions from educators' dues, corporate sponsors, and others who support public education initiatives. The NEA Foundation supports student success by helping public school educators work with key partners to build strong systems of shared responsibility.