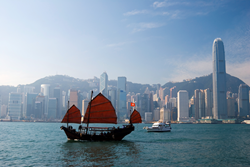 New Hyde Park, NY (PRWEB) October 29, 2014
New York based Associated Global Systems (AGS), a full service air and ocean transportation and logistics provider, is pleased to announce its enhanced services from China.
AGS has created an integrated supply chain solution that utilizes their extensive global network to streamline import product and material flow for direct and reliable delivery. Services include, but are not limited to, securing cargo at foreign origin, air or ocean transportation, U.S. distribution and warehousing and final mile white glove delivery to commercial and residential customers.
The AGS China network consists of 79 offices serving every community in China. Customers in the U.S. can track their orders by reference number and house bill number on their MyAGS.com website, providing visibility to the entire import supply chain from pickup in China to delivery in the U.S.
Additionally, AGS operates 30 gateway facilities in the U.S. for rapid customs clearance and U.S. inland transportation and delivery to every zip code. With a National Call Center that is staffed 24 hours a day, seven days a week, customers can speak with experienced expeditors for assistance on their urgent and challenging import needs.
AGS provides logistics programs that are highly personalized to specific customer requirements, developed by a joint AGS and customer design effort, with the goal of improving the customer's overall business performance.
With over 55 years of experience, AGS is a leading provider of transportation services, logistics services, and supply chain management solutions worldwide. It has locations in 125+ U.S. cities and 196 countries worldwide.