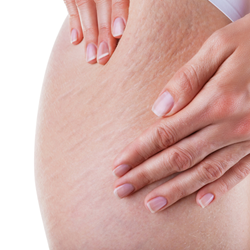 (PRWEB UK) 28 October 2014
If there's one subject that unites women all over the world – from supermodels to supermarket shoppers – it's undoubtedly stretchmarks. The good news is that technology has provided an answer. Glasgow-based cosmetic clinic Visage Lifestyle has recently acquired a new therapy created to banish stretchmarks: the wonderfully named Non Ablative Fractional Laser Therapy.
Stretchmarks are one of the most common, yet difficult to treat, cosmetic issues for both women and men. Frequently caused by weight gain and weight loss, changing body shapes throughout puberty or, most commonly, through pregnancy, the condition leads to unsightly marking of the skin which many people go to great lengths to cover up or even try to remove.
Non Ablative Fractional Laser Therapy uses laser pulses to stimulate healing of the tissue in and around the stretchmark. The laser is split into lots of tiny 'micro' beams, which are distributed over the skin evenly, creating less heat and making the treatment more comfortable and effective than other approaches. The end result is an improvement in the colour and texture of the stretchmark area, leaving behind smoother, better looking skin. This new treatment has been highly successful in the USA and is approved by the FDA.
Visage Lifestyle was so impressed by the technology that it brought the laser to Scotland. Skin rejuvenation therapist Melissa Marshal is now fully trained in the use of the technology and - with the treatment also effective against wrinkles, acne scarring and hyperpigmentation - she knows it will be put to very effective use.
To find out more, or to book a free consultation with Melissa, call Visage on 0141 222 6580 or email info(at)visage-health(dot)com