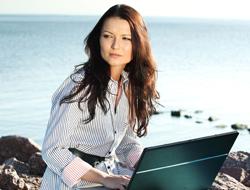 The ability to receive mail, have an office address, use meeting and day office space when clients choose offers the ultimate flexibility. - Juda Srour, Jay Suites President
New York, NY (PRWEB) October 28, 2014
Though one can attribute the rise of the virtual office to the increasing popularity of virtualization – which is quickly taking over every aspect of our lives – here at Jay Suites, we'd like to think of a virtual office as a cost-effective alternative to full time office space. Let's face it, the economic downturn, although largely reversed, has spurred a wave of layoffs. Rather than continuing to compete for virtually nonexistent employment opportunities, many of these newly-freed employees decided to join another movement: entrepreneurship. This sounds great, but without much growth in office space, the wave of new organization formation translated to an increasing number of companies with limited capital trying to cram into the ever-crowded (particularly crowded here in Manhattan!) office spaces.
A professional that owns, works, or otherwise represents a fresh-in-the-scene firm and finds himself jammed – for what seemed like eternity – between the seemingly infinite rents of NYC's office space and the amateurish image of working from home, you're in luck. To learn why a virtual office provides the perfect solution and is NYC's efficient answer to the never-ending office space gridlock, keep reading.
10. Look rich and famous
True to its description, a virtual office everything that comes with a traditional office, except the actual workspace. Users get an address, phone with voicemail, fax number, even a receptionist if they choose (see #2, below) – basically everything that a company with office space in NYC would have. They can use all of these to establish your business identity with potential customers, suppliers, and partners, while running your business from your home or local Starbucks. Other than the user, nobody needs to know that it's a virtual office.
9. Set your own mail days (and hours)...
Tired of checking mail daily? Who isn't? With a virtual office, users can pick up any incoming mail at your convenience. Mail sent to your new address is sorted and set aside, for whenever ready (hint: some of it might be time-sensitive, so we recommend not to get too lazy about it).
8. ...or opt for the snail way (also known as mail-forwarding)
If you are going to get very lazy about picking up your mail, we recommend to sign up for automatic mail forwarding. With this royal-treatment option enabled, we sort, set aside, and then re-mail your mail to your address of (real) residence. Of course, this add-on feature costs a little more than its counterpart. After all, it is a royal treatment!
7. Never have to answer telemarketing calls...
Whether you sign up for call answering & screening (see #2, below) or choose standard voicemail, you'll never have to deal with unsolicited calls again. Depending on your setup, calls to your assigned phone number will automatically route to either the receptionist or voicemail. So any telemarketers, salespeople or other cold callers will simply never reach you Again. Ever. We mean it.
6. ...or deal with a fax ad stream
We all loved the facsimile, until marketers figured out how to turn this innocent communications gadget into a non-stop advertising machine. Enter the virtual fax number. While you'll still receive faxes (rejecting those defeats the purpose of setting up a fax number), with a virtual number, the faxes will forward to your e-mail. Got an unsolicited fax? Just hit the "trash" button and you'll never see a paper trail again.
5. Receive Mail and Packages
By now, you're probably thinking that a virtual office is similar to a USPS PO Box. Right? Wrong. Many freight carriers won't deliver packages to PO Boxes, due to infamous space constraints. With a virtual office, this isn't the case. Yes, you can receive a reasonable amount of packages and yes, we will hold them for you. Best of all, Jay Suites' addresses will never be rejected because our spaces are secure and guarded 24/7.
4. Get Meeting Room Space
No, your coffee hasn't kicked your imagination into overdrive (yet) – yes, you're reading correctly – you'll have meeting space! If you're thinking, "but you said everything except the workspace," you're right: everything except the workspace (not meeting space). Accordingly, most Jay Suites virtual office plans come with at least some conference room time included. The amount varies by plan, but if you expect to have meetings, buying the time in advance can amount to huge savings (by the way, if you haven't seen Jay Suites' meeting rooms, you really should check them out at least virtually, here). If you're not sure, you can always start out with a simpler plan, and upgrade even before your initial term ends.
3. Forward voicemail (and extensions) too!
Yes, you can: get an e-mail notification about every new voicemail, with the message as an attachment, or set up your number to forward calls based on the extensions dialed (or both). In either case, you'll be fully-equipped to respond to incoming phone calls precisely how you want. It's your number, after all!
2. Finally – have a receptionist!
Though this super-royal-treatment feature involves additional monthly fees, we still think it's worth mentioning as the value trumps the traditional cost of this feature (more on this in #1, below). With Jay Suites' virtual offices plans, you can finally have a real, live receptionist to answer phone calls – in your company's name, of course – and even take messages for you (you'll probably still have to screen out cold callers). It saves time, saves headaches, and can be included with most of our virtual office plans.
1. Save tons of money
We started this story lamenting about nonexistent budgets, so let us now come full circle: Jay Suites' virtual office plans start at just $75/month. We promised NYC's plan to release the office space congestion problem will be effective – and we delivered.
Sold? We knew you would be. Go ahead and sign up for one of Jay Suites' virtual office plans here.
About Jay Suites
Jay Suites is a leading provider of flexible, fully-furnished office space suites in New York City. The firm specializes in full-service executive suite spaces with all-inclusive pricing; their short and long-term solutions accommodate a variety of businesses across the spectrum, from lawyers and financial managers to entrepreneurs. Jay Suites' vision is to transform the business center industry by committing an unprecedented amount of attention to design, service and quality. Jay Suites also offers a variety of virtual office plans & meeting room and day office rentals on a per hour or day basis. For preleasing inquiries about the new space, please call (212) 569-9000 or visit http://www.jaysuites.com.