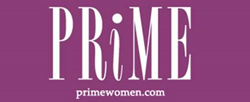 Are you the oldest one in the room even when you aren't?
Dallas, TX (PRWEB) October 28, 2014
In the new online magazine https://primewomen.com contributing editor and career expert, Karyl Innis, asks their readers: "Are you the oldest one in the room…even when you aren't? PRiME's target audience is upscale women over 50 and many are still employed with hopes of continuing to climb the corporate ladder well into their 60's, if not 70's.
More than 77 million women over the age of 50 are working outside the home in the US. Traditional thinking says that these are the women that show up as the oldest in the room at work. And yet, that's not necessarily so. Showing up as the oldest in the room isn't about owning the most years on one's birth certificate or about owning the deepest wrinkles. Innis says while outward appearance does matter, it's not the only thing that telegraphs age at work. Read more…
PRiME Women, launched online just this past April, provides a mature perspective on timely issues for a new generation of women over 50 who not only have successful careers (or had, if recently retired), but are still fully engaged in life. Articles cover a range of interests, like managing investments, travel, health and fitness, philanthropy, fashion, and more.