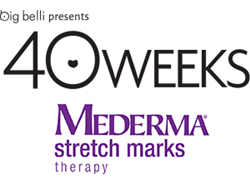 NEW YORK, NY (PRWEB) October 28, 2014
In light of the 4 million pregnancies in America each year, it's surprising there is no film documenting the entire journey of pregnancy, with its milestones and challenges. Director Christopher Henze and his wife made the discovery when expecting their first child. Henze decided this void was actually a wonderful opportunity to create a film that would inform other soon-to-be parents about this important phase in life. As Henze recalls, "I felt since this is such a profound change in a couple's life, there should be a movie about it – so I decided to make one." And the journey of 40 Weeks began.
Big Belli, Henze's production company, is on a mission to empower, educate and create a sense of community amongst expectant moms to help them have the healthiest, most informed pregnancy possible. When approached to be a part of 40 Weeks, the Mederma® team immediately knew it was a great fit. The Mederma® family of products has an established heritage of effectively diminishing the appearance of scars and stretch marks and, like Big Belli, Mederma® strives to empower women. New and expectant moms often experience stretch marks, and Mederma® products help them take charge of their appearance and feel more confident in their skin both during and after their pregnancies.
Many women experience "pregnancy glow" during their own 40 weeks, but underneath those adorable maternity tops, stretch marks can sometimes make moms-to-be feel less than glowing. Mederma® understands how important it is for women, especially expectant moms, to feel as beautiful to themselves as they do to everyone around them.
Mederma® Stretch Marks Therapy locks moisture into the skin, which helps prevent stretch marks by keeping the skin more pliable when used beginning in the second trimester. It also works on existing stretch marks, reducing discoloration, smoothing the texture of the skin and enhancing softness. And it's paraben free. It's great to know there is something you can do to take charge of your own skin.
40 Weeks is made for both parents — presenting a beautiful palette of families' experiences on their journey into parenthood. In the film, universal milestones of pregnancy are presented hand-in-hand with the personal experiences of the film's generous and candid expectant couples. Their diverse backgrounds will resonate with a wide audience, reassuring moms-to-be that they are part of a community larger than themselves and to whom they can turn for support.
Working closely with brands such as Mederma®, and employing a multi-platform strategy, 40 Weeks is structured to provide a world of information to expectant moms and their families in a very uplifting, relatable way.
"We saw a great synergy between Mederma® and the 40 Weeks documentary and wanted to be part of this film and its ancillary projects, providing expecting parents and their families with educational and informational resources in an easily digestible, visual format," said Emily Klopp, Brand Director.
Henze has enlisted talented and respected professionals to help score, edit and craft the film in an intimate and personal manner. Among them are Executive Producer Kurt Engfehr ("Bowling for Columbine", "Fahrenheit 9/11", "Fat, Sick, and Nearly Dead"), Casting Director Lisa Singer ("The Bachelorette", "Queer Eye"), and Editor April Merl ("2012: A Time for change," "The Yes Men Fix the World").
The December launch of 40 Weeks will be preceded by a series of topic-specific web videos to introduce the film's families and provide a sneak peek into the film itself. Mederma® Stretch Marks Therapy will sponsor these videos as well, further extending their involvement in helping bring this exciting new documentary to life.
40 Weeks invites audiences to sign up to be in the know about premieres and opportunities to meet the families featured in the film. To learn more and watch the videos, please visit http://www.40weeksthemovie.com.
About Mederma®
The Mederma® family of products, including Mederma® Stretch Marks Therapy, Mederma® Advanced Scar Gel, Mederma® PM Intensive Overnight Scar Cream, Mederma® Scar Cream plus SPF 30, and Mederma® for KidsTM, has a long tradition of visible improvement in the appearance of stretch marks and scars when used as directed. Mederma® is the #1 pharmacist-recommended brand for stretch marks and scars1. To learn more, visit http://www.mederma.com, and follow us on Facebook at http://www.facebook.com/Mederma.
About Merz North America
Merz North America is a specialty healthcare company that develops and commercializes innovative, high-quality treatment solutions in aesthetics, dermatology and neurosciences in the U.S. and Canada. As part of the Merz Pharma Group of companies, our ambition is to become the most admired, trusted and innovative aesthetics and neurotoxin company. By developing products that improve patients' health and help them to live better, feel better and look better, we will continue to make significant contributions to the well-being of individuals around the world. Founded in 1908, Merz Pharma Group is a privately-owned company headquartered in Frankfurt, Germany. For more information about Merz and the Company's U.S. product portfolio, please visit http://www.merzusa.com.
1Pharmacy Times and US News & Report, OTC Guide, June 2014.