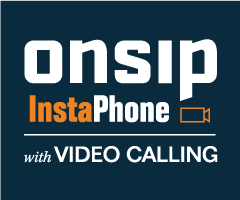 We've brought the power of face-to-face selling to the cloud with OnSIP InstaPhone in Salesforce
New York, NY (PRWEB) October 28, 2014
OnSIP today announced the launch of InstaPhone on Salesforce AppExchange, empowering businesses to connect with customers, partners and employees in a whole new way. By simply logging into OnSIP® InstaPhone in Salesforce, agents are able to make and receive voice and video-capable calls from anywhere and maximize efficiency with automatic record lookups, call logging, and enhanced caller information display (such as what webpage the caller viewed when s/he initiated the call). OnSIP recommends that customers add one-click call buttons, provided by OnSIP, to their websites for improved lead capture via an instant, substantive voice or video chat with a sales agent— no dialing or downloads required.
Built on the Salesforce Customer Success Platform that brings together groundbreaking cloud apps for sales, service, marketing, community, and analytics, all on the Salesforce1 Platform, OnSIP InstaPhone is currently available on the AppExchange at http://www.appexchange.com.
Comments on the News

"We've brought the power of face-to-face selling to the cloud with OnSIP InstaPhone in Salesforce," said Rob Wolpov, Cofounder of OnSIP. "This new solution will make sales agents more effective and efficient by offering them a powerful way to connect with their prospects and receive real-time insight that will help them nurture leads and close deals. Our remote sales agents use this browser-based app every day as their main business phone, and we are excited to share it today with businesses from the SMB to the enterprise."
"Companies are looking to transform the way they connect with customers, partners and employees to thrive in today's connected world," said Ron Huddleston, senior vice president ISV & partner programs, Salesforce. "By leveraging the power of the Salesforce1 Customer Platform, OnSIP provides customers with the proven social, mobile and connected cloud technologies to accelerate business success."
Connect in a Whole New Way with Social, Mobile and Connected Cloud Technologies
OnSIP InstaPhone offers customers an impactful way to connect with their prospects via instant video chat, right in Salesforce, built entirely on cloud and browser technologies (WebRTC) and requiring no downloads. The app is also capable of receiving custom caller information from the customer's website (such as what webpage or SKU the caller was viewing when they clicked to call) for maximum efficiency and sales enablement.
Product Key Features
OnSIP InstaPhone is made for CRM professionals who want to streamline and optimize their communications with prospects and customers. While working in the office or remotely, agents simply login with their OnSIP credentials and have access to a full-featured, deeply integrated business phone in their browser. The application offers automatic lead, opportunity, and account record lookup when an incoming call is received, the ability to video chat, and the option to log a call with the click of a button. InstaPhone also provides agents the ability to click-to-call phone numbers in Salesforce and extension dial coworkers. Additionally, sales and support managers can run InstaPhone reports to track call volume by agent for accurate performance reviews and better staffing decisions.
Additional Resources

OnSIP on Twitter: twitter.com/onsip
OnSIP on Facebook: facebook.com/onsip
About Salesforce AppExchange
Salesforce AppExchange is the world's leading enterprise apps marketplace that empowers companies to sell, service, market and engage for the Internet of Customers. With more than 2,200 partner apps and more than 2.4 million customer installs, it is the most comprehensive source of social, mobile and connected cloud apps for business.
Salesforce, Salesforce1, AppExchange and others are among the trademarks of salesforce.com, inc.
About OnSIP
OnSIP is a leading provider of real-time communications (RTC) services to over 30,000 businesses. OnSIP® Business VoIP customers enjoy the benefits of advanced phone system features without the traditional high cost, burden, and inflexibility. The company also offers a cloud platform and simple APIs for companies to rapidly and affordably build RTC applications of their own. For more information, visit http://www.onsip.com.