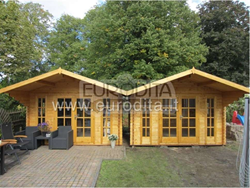 Eurodita, a leading European log cabin manufacturer since 1994
Lithuania, Europe (PRWEB UK) 31 October 2014
Eurodita, a leading European log cabin manufacturer since 1994, recently amplified its production volume, and is now seeking new dealers for the 2015 season. Existing clients include some of the largest log cabin sellers in Europe. Dealers who are seeking a trusted, costumer-centric, thorough log cabin manufacturer are encouraged to contact Eurodita via sales(at)eurodita(dot)lt today.
Log construction is an ancient, complicated art that requires a creative and precise approach. The dealer has a lot to consider when deciding which manufacturer to pursue business with. Eurodita offers a variety of handmade log structures, including houses, sheds, interlocking buildings, bespoke cabins, garages, children play houses, grill houses, modern and mega-modern bungalows, and doors and window frames. All of these products are made with first grade Siberian spruce. Eurodita currently produces at a rate of 500 units per month, making it the top producing log cabin builder in Europe.
Rolanas, a Eurodita spokesperson emphasizes, "Client reviews serve as the best evaluation of our work. Our longstanding clients standby our handcrafted products, and we hope that new dealers consider joining our incredible network of professionals." Rolanas continues, "We regulate quality during each stage of production. For each product, quality is ensured through fine detailed workmanship."
Dealers who are looking for the company that provides the best standard log-based products available, are encouraged to contact Eurodita today via sales(at)eurodita(dot)lt.
About Eurodita
Eurodita was established in 1994 to provide a wide variety of building services, including first grade spruce log cabins, garden houses, wooden playhouses and everything in between. The company is known as Europe's largest manufacturer of log cabins that uses top quality Nordic timber. Eurodita produces more than 15,000 log cabins a year at the wholesale dealer level. Superior quality is always ensured through fine workmanship and production. Processing is completed using modern Italian and German equipment; Eurodita's very own timber preparation, drying and storing system; and by strictly maintaining its technology and facilities according to industry standards. This unique process ensures that Eurodita consistently provides top quality products. Wholesalers, retailers and online shoppers are welcome to speak to a representative about becoming a part of Eurodita's expanding affiliation network. Please visit http://www.euroditalogcabins.com or email sales(at)eurodita(dot)lt today to become a dealer.
Contact:
Eurodita Log Cabins
Rolanas Kutra
Sales Representative
E: sales(at)euroditalogcabins(dot)com
P: +37037211988