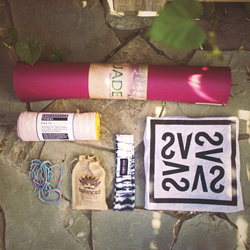 Charlotte, NC (PRWEB) October 29, 2014
YogaVibes, the premium source for streaming online yoga classes and free yoga videos, is excited to attend Yoga Journal LIVE as an event sponsor, November 13-17, 2014, at the luxurious Diplomat Resort & Spa in Hollywood, Florida.
Attracting devoted Yoga Journal readers and yoga practitioners who seek the ultimate yoga experience, Yoga Journal LIVE is an opportunity to interact with world-renowned instructors in marquee settings in top markets. Yoga Journal events feature unparalleled marketing opportunities, including the popular Yoga Lifestyle Marketplace filled with sought-after yoga products, samples and services.
In attendance, will be YogaVibes teachers Justin Michael Williams, Coral Brown, and Kino MacGregor. They'll be leading workshops, intensives, and classes, as well as participating in interviews at the YogaVibes booth on Saturday of the conference. Interviews will be conducted by YogaVibes creator, Brian Ratté.
Stop by the YogaVibes booth to catch these awesome teachers in action and to also, be on the receiving end of some awesome giveaways! What's more, Yoga Market guests will have the opportunity to sign up for the YogaVibes newsletter to receive a free waterproof and adjustable Pura Vida Good Vibes bracelet, and to also, enter for a chance to win YogaVibes' ultimate yoga giveaway package, featuring prizes from Jade Yoga, Project Juice, SASVEDA, Yoga Journal, Balanced Guru, Violet Love Headbands and Areté Complete.
ABOUT YOGAVIBES
YogaVibes, a Yoga Journal partner, is the premium source for streaming online yoga classes and free online yoga videos. No more worries about making it to class on time! Stream online yoga at work, at home, in the airport - wherever, whenever! YogaVibes takes the stress out of finding time for yoga. Join now to sweat, stretch, explore, unwind, or bliss out.
ABOUT YOGA JOURNAL LIVE
For 18 years, Yoga Journal LIVE has provided the unique top-notch educational opportunity for yoga practitioners of all levels, from all over the world, to experience Yoga Journal Magazine LIVE! Attendees come to explore new styles, get inspired and connect with our top-tier roster of highly regarded yoga teachers and luminaries. Yoga Journal LIVE - held in Colorado, New York, San Francisco, San Diego and Florida - feature classes, panels, keynotes, intensives and a Yoga Marketplace with products and services for healthy balanced living. Learn more at http://www.yjevents.com.