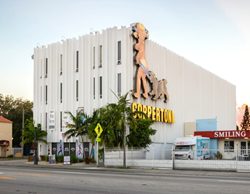 We are excited to bring more talent and energy to Biscayne Boulevard's Mimo District.
Miami, FL (PRWEB) October 28, 2014
Büro Group, South Florida's leading operator of upscale coworking spaces, will be opening its next location in Miami's hip and increasingly vibrant MiMo District in early 2015. The new space is located within the iconic Coppertone Building located at 7300 Biscayne Boulevard and will consist of 11,000 square feet of stylish and flexible workspace designed for entrepreneurs and creative companies.
Büro MiMo will be the third location for the fast-growing young company, following its flagship in Midtown Miami in 2010 (which recently doubled in size) and its expansion to Sunset Harbour last year.
"We are thrilled to be further expanding the Büro community, which now includes over 200 dynamic companies from a wide range of industries," says Büro founder and CEO Michael Feinstein. "And we are excited to bring more talent and energy to Biscayne Boulevard's MiMo District. We were early players in Midtown and Sunset Harbour, and I think our timing is right for the MiMo neighborhood as well." In addition to occupying roughly half of the Coppertone Building, Büro is also a part-owner of the property, alongside local investor Greenstreet Capital.
Brad Safchik of Greenstreet is bullish on the rapidly changing MiMo District. "The neighborhood is clearly emerging as a hotspot and creative hub. With the recent re-development of the Vagabond and all the new restaurant openings, I think it's a very compelling real estate opportunity."
In addition to Büro, popular local brands Jugofresh and Panther Coffee have recently announced new locations in the MiMo District as well.
Büro will be taking reservations for their new location at 7300 Biscayne Boulevard starting in January 2015. Call 305.377.1122 to inquire about availability, or visit http://www.buromiami.com for further information.