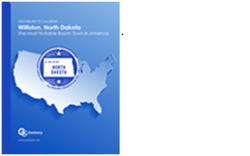 We have been studying micro-level changes in population and demographics across the United States for over fifteen years, and rarely have we ever seen such interesting change as we see in Williston," said Larry Martin, President of Gadberry Group
Little Rock, AR (PRWEB) October 30, 2014
As the Bakken Field oil and gas boom continues it's explosive growth the town of Williston, North Dakota has become one of the most notable growth stories in the United States. Gadberry Group, a location intelligence firm headquartered in Little Rock, Arkansas, has researched the most notable growth stories across the United States for several months and has chosen Williston as the first city featured in "MicroBuild On Location," a periodic look at the interesting and notable places in the United States going through significant change.
From a population in 2010 of just under 17,000 to a current population of nearly 23,000 Williston is the epicenter of the Bakken oil-fueled growth in population, aggregate income, and wealth. With this growth comes the accompanying increase in demand for housing, service industry and retail development.
"Williston is an exciting place to live, and it's really like being a part of history. There are endless opportunities for anyone who is looking to start their own business, or even advance their career. Now is the time to be a part of the progress," said Caitlyn Beley, Communications Director for Williston Economic Development. Beley also commented on the fast growth in business openings in Williston, stating "We have a pile of shovels in our office; we had to stop getting new shovels for each groundbreaking because there were just too many to do."
"We have been studying micro-level changes in population and demographics across the United States for over fifteen years, and rarely have we ever seen such interesting change as we see in Williston," said Larry Martin, President of Gadberry Group, "It is when we really dive in and study the smaller areas of growth in the country do we see how fast populations can change and the impact that has for residential and commercial development."
Williston by the Numbers
Williston's household count has grown over 20% since the 2010 Census, with over 13% growth just since 2013. And with this population growth comes an accompanying growth in average household income and average household wealth to $53,696 and $94,189, respectively.
Gadberry looks at individual blocks and block groups when analyzing change in an area, which often yields a more telling story than when looking at larger level Census-based data on its own. "The northwestern section of Williston is where the fastest change is occurring, and it is where we see the most dramatic shifts – from a population getting younger, from an average household age of 51 down to 44, to an increase in aggregate income of over 35% since 2010," said Martin.
"We work with real estate, retail and economic development professionals across the country who are always looking for explanations for the change they see on the ground, and then the ability to build in those explanations to their forecasting models," said Martin. "When we find fascinating stories like what is happening in Williston, we are always intrigued to work with local professionals to best understand the situation. Census numbers do not always give a complete picture, that is why our clients rely on our ability to dive in and perform micro-level data for their studies."
To read more about Williston's rapid growth in the full MicroBuild On Location report, please visit http://www.gadberry.net.
About Gadberry Group
Gadberry Group provides location-based services and information data products for clients who demand the most current, accurate, and precise geo-demographic data for their location analysis and research. Our patented MicroBuild data products are built using multiple sources of consumer data at the name and address level. Headquartered in Little Rock, Arkansas, Gadberry has industry-recognized expertise for combining sophisticated data development, software development and professional services to help clients solve business problems related to site and store selection, marketing campaigns based on specific geographic and demographic targets and geographic-based analytics. For more information please visit http://www.gadberry.net.