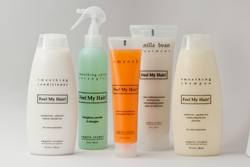 New York, NY (PRWEB) October 27, 2014
Angela Cosmai, one of the worlds' leading authorities on hair color, has just launched her newest product range in the Angela Cosmai Color Hair Care System, "Feel My Hair."
The "Feel My Hair" line offers a Smoothing Shampoo and Conditioner, Smoothing Spray Detangler, Smooth Leave In Conditioner & straightening balm, and a Vanilla Bean Deep ConditioningTreatment. Not only are the products perfectly suited for color clients, they work wonders for those who have never tinted their hair before. Made with uniquely rich and natural botanicals, they are also mild enough for every day use and are produced cruelty-free.
Angela Cosmai has been the preeminent colorist and stylist to an international roster of celebrities and society for over 30 years. The Angela Cosmai Color Hair Care System line was born after her clients struggled to find home products to help them maintain their color. Her concept of creating a hair care line that met her expert specifications soon became a reality.
Priced from $8 for 2 oz. bottles, and $60 for one liter bottles, the full range of "Feel My Hair" products are available for purchase on angelacosmai.com and at the Pierre Michel Salon in New York City.
For further media information, jpegs and samples for photography please contact:
Allison Rosenbaum at Apart Agency Email: Allison(at)apartagency(dot)com Phone: 203-219-7004
Note to Editors:
Angela Cosmai Color Hair Care System is owned and created by Angela Cosmai who currently operates the Angela Cosmai Salon in Stamford, CT. She also works at Pierre Michel Salon in New York City and is known as a color corrector and artist with tints. http://www.angelacosmai.com