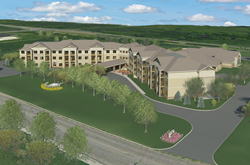 "Located east of downtown Kansas City, The Parkway will offer a continuum of care with 142 units in total."
Orlando, FL (PRWEB) October 28, 2014
Sentio Healthcare Properties, Inc., ("Sentio" or the "REIT"), a real estate investment trust focused on healthcare-related real estate, announced today the development of The Parkway in Blue Springs, Missouri. Located east of downtown Kansas City, the $22.4 M project is currently under construction and is anticipated to be completed during the summer of 2015. The Parkway will offer a continuum of care including independent living, assisted living (34 units), and memory care (32 units) with 142 units in total.
Sentio entered into a joint venture relationship on this development with O'Reilly Development Company, ("O'Reilly" or "ODC"). Patrick O'Reilly and Denise Heintz are the controlling partners of ODC and under their leadership the company has developed numerous senior housing, multi-family and student housing projects since 2003.
The property will be operated by Arrow Senior Living ("Arrow"), which is based in St. Louis and currently operates one of ODC's existing developments, The Fremont. Founded by Stephanie Harris, Arrow Senior Living operates facilities in multiple states and is a new management company relationship for Sentio.
John Mark Ramsey, President and CEO of Sentio, commented about the transaction, "From our first encounter with the O'Reilly and Arrow teams we were very impressed by their approach to senior housing development and the specific experience they brought to the transaction. We believe their familiarity with Missouri's Certificate of Need program and their local knowledge will be very beneficial to the project moving forward. One of our goals for the REIT this year was to enhance the portfolio with standout properties offering a continuum of care. We are pleased to be accomplishing that objective with an asset like The Parkway, which is well positioned in a strong Kansas City-area market."
Patrick O'Reilly, described the joint venture with Sentio this way, "We are pleased with the understanding that the Sentio team has of senior housing operations. They are thoughtful investors in senior housing and we share a very like-minded approach to the industry. Together, we were able to structure a deal that accomplished both of our objectives and form a partnership on what we hope is the first of many opportunities to come."
About Sentio Healthcare Properties, Inc.
Sentio Healthcare Properties, Inc. is a public, non-listed, real estate investment trust, which invests exclusively in healthcare-related real estate, and is committed to delivering strong and reliable returns to investors. Sentio Healthcare Properties has an investment agreement with an affiliate of leading global investment firm Kohlberg Kravis Roberts & Co. L.P. (together with its affiliates "KKR"). As a part of the agreement, KKR committed to provide an initial $150 million of convertible preferred equity to Sentio over a two to three year period.
Sentio features a diversified portfolio of senior housing and medical properties throughout the United States. The portfolio offers diversity in many areas including asset type, geographic location, operators and payor mix. The REIT is led by a team of healthcare real estate industry veterans at Sentio Investments, LLC, the REIT's advisor. Their core objective is to tailor a capital structure that complements the operating platform of developers and owner/operators, recognizing that each is unique in its approach and service to the healthcare industry.
About O'Reilly Development Company, LLC
O'Reilly Development Company, LLC is a real estate investment and development firm specializing in historic preservation, senior housing, affordable multifamily and student housing communities. The O'Reilly team of experts branch into all areas of development, management and ownership with properties built in the residential, commercial, and industrial sectors.
Forward-Looking Statements and Securities Act Legends
Certain statements in this release containing the words "believes," "expects," and similar words, are "forward-looking statements" within the meaning of the Private Securities Litigation Reform Act of 1995. Forward-looking statements involve risks and uncertainties that may cause actual results to differ materially from results expressed or implied by forward-looking statements. Such factors include, among others: economic and business conditions, nationally and in regions in which Sentio will operate, relating to healthcare-related real estate; the availability of suitable investments at the relevant time; and whether all conditions to any drawdown of the committed funding can be satisfied at the relevant time. Given these uncertainties, you are cautioned not to place undue reliance on such forward-looking statements. Sentio disclaims any obligation to update any of the forward-looking statements contained herein to reflect future events or developments.
The securities referenced in this release have not been registered under the Securities Act of 1933, as amended, and may not be offered or sold in the United States absent registration or an applicable exemption from registration requirements. This release is not an offer to sell, or a solicitation of an offer to buy, any security.