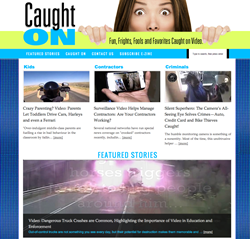 A key role of videos is safeguarding the people we care about, and this includes our safety on the road—Maureen Campbell, iWatchLife
Toronto, ON (PRWEB) October 27, 2014
In this week's Caught On Video, the online video magazine spotlights truck accident fatalities, emphasizing the importance of vehicle cameras for education and enforcement. Coverage begins with a video of a truck careening out of control after sideswiping a bus, and concludes with a compilation of fatal multi-vehicle accidents involving trucks. Also featured this week is a video demonstrating how hippotherapy (horse therapy) is growing in importance for adults with autism.
"Video: Truck Crashes are Common, Highlighting the Importance of Video in Education and Enforcement."
Out-of-control trucks may not be an everyday occurrence, but their potential for destruction makes them intimidating for most commuters. Even bus commuters are not safe when a truck careens out of control, as seen in the first feature video showing a Coke truck slam into the side of a bus, before sliding into a building. In a compilation video—most taken with vehicle cameras—over ten fatal truck crashes are highlighted, most involving other vehicles.
These vehicle camera videos serve an key role in education—and ultimately in the prosecution of the people who put lives in danger. This includes car drivers who don't drive defensively around trucks. Just as surveillance video can help protect homes and businesses, footage of careless driving can help reinforce the importance of defensive driving.
"A key role of videos is safeguarding the people we care about, and this includes our safety on the road," explained Maureen Campbell, Director of Marketing and Communications at iWatchLife, a do-it-yourself home security monitoring service. "In the same way a surveillance video in the home can be used to identify a thief, the growing presence of videos on the road helps authorities safeguard lives on our highways through enforcement."
Watch truck crash videos>>
"Video: Horses Bring out the Affection in Adults with Autism, Highlight the Growing Importance of Hippotherapy."
The horse's gentle nature, soft nuzzling mouths, loving nickering, and the rhythmic movement of a ride have all been recognized as therapeutic for various conditions. Horse therapy is growing in prominence with government and medical industry official associations around the world. It even has a name: hippotherapy. Sometimes it is called "equine-assisted therapy."
The highlight video shows the story of an adult with autism, brought to the farm by his mother, and responding vocally and with touch to the equines. This branch of hippotherapy could be called equine-assisted touch therapy, since its benefits derive from the act of bonding, touching, grooming and feeding.
The feature article explores all the benefits and aspects of hippotherapy, equine therapy and therapeutic riding.
Watch the horse-therapy video>>
About Caught On
Caught On video Caught On website showcases those special, fun, scary, candid, freaky moments captured by home and business monitoring cameras, street cameras, surveillance videos or cell-phones.
Pervasive cameras have changed the world. People are more secure today because of them. People also capture more of life's treasured moments thanks to cameras everywhere. Phones have cameras. Street corners, stores, businesses and subways all have them. Increasingly, more and more homes have them—and not just at the door for security, but throughout the house.