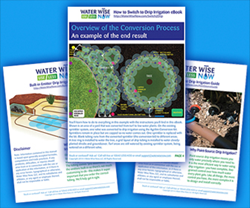 In the Los Angeles area, you could save more than 25,000 gallons per year by switching just 500 square feet from turf to low-water plants with drip irrigation.
La Quinta, California (PRWEB) October 29, 2014
Water districts and municipalities throughout California have made it clear—it is necessary to save water! To alleviate effects of the drought there are rebates to remove turf, incentives to upgrade irrigation equipment, and even free toilets to save water indoors, too.
But where does the do-it-yourself homeowner learn how to convert their water-hungry sprinkler system into an efficient drip irrigation system? Garden magazines won't touch the topic and set-ups for veggie gardeners aren't scalable to a beautiful residential yard. A trip to a local hardware store can help a homeowner discover some of the products available, but where can they find useful instructional materials?
Water Wise Now—a company connecting conservation messages to actionable projects for homeowners and small businesses—has just launched its newest authoritative guide, Switch2Drip: How to Convert from Sprinklers to Drip Irrigation (available at: WaterWiseNow.com/Switch2Drip). This guide gives people the tools needed to conserve water in their yard.
Many homeowners feel the cost of hiring a contractor to make the switch from grass to drought-friendly or xeriscaped gardens is too great, even with generous "Lose Your Lawn" turf rebate programs. A strong need exists to provide homeowners with sound advice, empowering them to take the contractor out of the equation, making these water-conserving projects more affordable.
To help reach homeowners, Water Wise Now recently sponsored a class called "The Big Switch" at the Desert Garden Community Day in Palm Desert, California. This annual event is hosted by the Desert Horticultural Society of Coachella Valley, and this year it took place on October 18th at The Living Desert Zoo and Gardens. The event attracted over 500 Southern California residents who wanted to learn about desert gardening and water conservation.
The Big Switch, taught by Spencer Knight, the former Landscape Manager for the City of Palm Desert, provided an excellent introduction to converting from sprinklers to drip irrigation. Eager homeowners wanting to understand the mechanics of decommissioning a sprinkler system and properly installing drip irrigation were also given a preview of the new Water Wise Now Switch2Drip guide. In class, Knight noted, "These books by Water Wise Now belong in every homeowner's garden library, right along side "Sunset Western Garden."
Switch2Drip walks the do-it-yourselfer through every step of the process, helping them understand their existing sprinkler system, deciding which planting sections to convert, and purchasing the right equipment to complete the conversion. It also provides thorough installation instructions peppered with professional tips from the company's co-founder, Kelley Hanna, a licensed landscape contractor—including what to do if the homeowner makes a mistake.
Priced at $14.95, a Switch2Drip download includes bonus guides for Point-Source Drip Irrigation and Built-in Emitter Drip Irrigation. Each purchaser receives a coupon code good for $14.95 off any purchase of $50 or more at WaterWiseNow.com. Customers of WaterWiseNow.com always get free phone-based support to help ensure they can complete their projects.
Switch2Drip is the latest release of homeowner-oriented content from Water Wise Now, which also publishes a free eBook titled How to Prevent Run-off, as well as worksheets to help homeowners improve the efficiency of their existing irrigation systems.