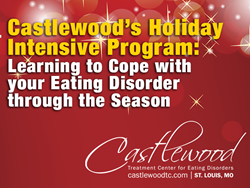 Our Holiday Intensive Program offers extra support for those already in recovery, and creates a jump-start for those seeking help for the first time.
St. Louis, MO (PRWEB) October 28, 2014
Castlewood Eating Disorder Treatment Centers is pleased to announce its all-inclusive 2014 Holiday Intensive Treatment Program at all three of its locations around the nation. This flexible and convenient intensive program helps individuals with anorexia, bulimia, binge eating disorder, compulsive eating and other types of disordered eating issues connect with the recovery community and create a personal set of strategies for coping during the holiday season. A centralized intake number is available at 855.886.6098.
Due to the positive response from clients who took part last year, this year's Holiday Intensive Program will be offered from November through January 2015. The extra month allows more flexibility for the 14 days (and sometimes more) necessary to benefit from this rigorous and intensive program.
According to Nicole Siegfried, PhD, CEDS, Clinical Director of Castlewood at The Highlands, there are several issues that are problematic for those with eating disorders during the holidays.
"Social gatherings involving food are the most common problem areas," said Dr. Siegfried. "Helping our clients think about past experiences that were difficult, or what they imagine will be hard even if they are in the early stages of recovery, is a starting point. From there we can work with them to identify ways to cope with their specific fears and concerns. Our intensive holiday program allows for these strategies to be not only developed, but practiced, in a safe, non-threatening environment."
Individuals ages 16 and older are eligible to participate in this all-inclusive day treatment program. Clients living out of town can enjoy residing in Castlewood's transitional housing. Peer support is an important aspect of recovery and living in recovery housing during the program provides positive therapeutic interaction. By concentrating on holiday issues and taking advantage of treatment during vacation from school, work and other commitments, it is possible for those struggling with eating disorders to make this important time of year an enjoyable experience.
"Our Holiday Intensive Program offers extra support for those already in recovery, and creates a jump-start for those seeking help for the first time," said Nancy Albus, M.Ed., LPC, NCC, CEDS, who is both CEO of Castlewood in St. Louis and an experienced eating disorder therapist.
Clients can choose to participate at any of Castlewood's treatment centers. Castlewood's flagship center is located in St. Louis, The Highlands is in Birmingham, Ala., and Monarch Cove is located in Monterey, Calif. This day treatment option is open to men, women and adolescents. Clients will receive a fully individualized treatment plan, implemented by licensed therapists and registered dietitians.
For more information, contact the intake department at 855.886.6098. Castlewood's intake specialists can answer questions about the program, insurance coverage, and a special self-pay rate being offered for the Holiday Intensive Treatment Program.
About Castlewood
Castlewood Treatment Center helps people with eating disorders transform to healthier lives. Established in 2000 as the first residential treatment facility in Missouri, Castlewood's licensed health care team is nationally recognized and has decades of combined experience in providing compassionate, professional and successful treatment for more than 1,000 men and women with eating disorders and related conditions. They offer individualized, supportive and comprehensive care in a home-like residential setting to help people towards recovery and a bright, healthy future. Castlewood facilities are located in St. Louis, Missouri; Monterey, California; and Birmingham, Alabama and are accredited by the Commission on Accreditation of Rehabilitation Facilities and The Joint Commission. For more information, visit castlewoodtc.com.