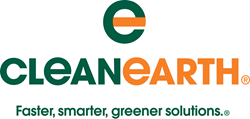 Hatboro, PA (PRWEB) October 29, 2014
Clean Earth, Inc. a leader in recycling contaminated soils, dredge, and drill cuttings, announced today the company ranks impressively at # 118 on Engineering News Record's Top 600 Specialty Contractors of 2014. The list appeared in the October 20, 2014 issue of ENR, published by McGraw-Hill Companies Inc.
According to Engineering News Record, "As a group [Top 600 Specialty Contractors], the Top 600 cleared revenue of $88.23 billion in 2013, up 8.5%, from $81.33 billion, in 2012. The Top 600 revenue figure from 2013 is a record, topping 2008's mark of $87.07 billion."
Chris Dods, President & CEO of Clean Earth, Inc. states, "We are seeing movement in all of our markets, especially infrastructure and commercial. We have planned for growth and will continue to bring new services online."
In 2013, Clean Earth managed and treated 3.4 million tons of material, of which 98 percent was beneficially reused. Over the past year Clean Earth has opened a large soil recycling facility just outside of Washington, D.C., and has entered into its third year providing the only beneficial reuse service for drill cuttings to the oil and gas industry within Pennsylvania.
Clean Earth has successfully opened 3 new locations in the past 3 years.
To learn more about Clean Earth visit us at http://www.cleanearthinc.com or call 877.445.DIRT (3478).
About Clean Earth, Inc.
Clean Earth Inc. is one of the nation's largest specialty waste companies providing recycling and remediation services to energy, infrastructure, commercial and industrial customers along the East Coast of the United States. Headquartered in Hatboro, Pa., it operates a network of 12 full-service facilities servicing New York to Florida, and handles more than three million tons of material annually. Approximately 98% of the material processed at Clean Earth facilities is recycled.