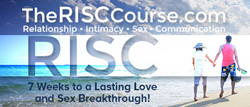 Working with Sonika & Christian changed our entire relationship, and how we communicate and talk to one another. We have a newfound respect for each other in our marriage. We really HEAR each other now, we really listen. - Donovan
San Francisco, CA (PRWEB) October 28, 2014
The RISC Course (Relationship, Intimacy, Sex, and Communication), the ManKind Project USA's most recent offering in online training programs, begins on Wednesday October 29, 2015.
MKP USA's partnership with LoveWorks has focused on meeting a need for men who are engaged in personal development work. The RISC Course (http://therisccourse.com) was created to offer a unique set of tools and strategies for improving relationships that has been proven with thousands of men and women over the past two decades.
"Many of the online relationship courses offered right now fall into two categories," says Boysen Hodgson, MKP USA's Communications Director, "they are often developed with a female audience in mind, or they are so called 'pick-up' courses, aimed at men looking to connect with women."
Hodgson went on to say that the work with LoveWorks was created for men and their partners (women or men) looking for a grounded and emotionally mature approach to relationships.
The course is being taught by Sonika Tinker, MSW, and Christian Pedersen, a husband-wife team. Pedersen and Tinker are relationship experts with over 30 years combined experience coaching and leading seminars helping thousands of couples and singles to dramatically improve relationships.
Sonika is a Certified NLP Professional™, Certified Enneagram Teacher, Certified Mediator and author of Seize Your Opportunities and The Good Divorce. Christian is a Certified Life Coach, Certified Mediator, ManKind Project graduate and author of When You Love Your Woman. They are the owners of LoveWorks, a cutting-edge relationship training company, both are passionately committed to shifting the current relationship paradigm from blame, resignation and scarcity to one of joyful, expansive, delightful co-creation. They offer a unique leading-edge relationship solution that is uplifting, light-hearted and powerfully effective.
Says Tinker of the RISC Relationship Course, "Our goal is to have our participants' primary intimate relationships be a place where they can be open and free, empowered, and grounded in reality. We offer tools to make relationships a safe place to express wildness as well as sensitivity, where partners can be transparent and root for each other to be their best selves … and get everything they want!"
As part of the launch for the RISC Course, Pedersen and Tinker created a short video series outlining the top three Relationship Destroyers. The 3 Destroyers video series is free, and gives viewers a preview experience of Pedersen and Tinker's teaching style. Learn more at http://otp.mkp.org/risc/the-three-relationship-destroyers/
The RISC Relationship Course is the second 7 week course offered by the ManKind Project USA. The first course, called the Man on Purpose Course, has now been successfully offered twice to hundreds of men from around the world. The Power of Purpose Summit, which launched the Purpose course, was joined by over 10,000 men and women from over 80 countries and featured such notable speakers as Charles Eisenstein, Ken WIlber, Claire Zammit, Tim Kelly, and John Gray.
The ManKind Project USA is a 501(c)(3) nonprofit training and education organization and is not affiliated with any religious practice or political party. MKP USA strives to be increasingly diverse and culturally aware. Learn more about the ManKind Project USA at http://mkpusa.org.