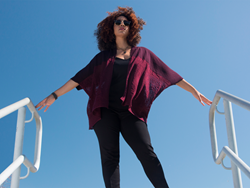 New York, NY (PRWEB) October 28, 2014
Cushie b, a luxurious collection of beautifully designed plus size clothing has launched its first collection. This knitwear line embodies high standards and design options for a full figured woman.
The cushie b line was developed and designed by a full-figured woman, Valerie Thompson, who experienced firsthand the struggles of trying to find stylish and quality clothing. Her concept of designing fashionable knitwear exclusively for full-figured women soon became a reality. Women should not be limited in options when it comes to fashion, and cushie b offers the same high quality and luxury all women are entitled to.
The range offers a number of styles – sleeveless tops, sweaters and cardigans along with chiffon printed blouses – in gorgeous colors and patterns. The stitching on the necklines is the same on both the sleeveless tops and the cardigans, making them perfect to wear together or as separates. Made in America with beautiful Italian yarns, full-figured women will no longer be left purchasing drab garments.
-ends-
For further media information, imagery and samples for photography please contact:
Allison Rosenbaum at Apart Agency
Email: Allison(at)apartagency(dot)com
Phone: 203-219-7004
Note to Editors:
Cushie b was founded by Valerie Thompson, a fashion designer who grew up in the U.K. and currently resides in Connecticut. With a passion for knitwear, she's worked for several high-end designers in New York but found her personal clothing options limited for her full-figure. Valerie set our to create a luxurious knitwear line for plus-size women because she believes that everyone is entitled to the same high standards and design options. All pieces are made in the USA with high quality Italian yarn. Visit the line at http://www.cushieb.com