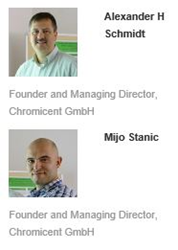 Yorba Linda, CA (PRWEB) October 27, 2014
Traditional method development, in which a liquid chromatography (LC) method is developed chiefly by trial and error, is time-consuming and may not produce a robust method. Taking this approach imparts no understanding of how key factors influence the results, and can thwart efficiency. Conversely, modern, systematic method-development strategies that use statistical or modeling software tools to generate experimental designs and explore method robustness, provide many advantages—and can offer a fast and efficient approach for method development.
Waters is sponsoring a new educational webinar, "Quality-by-Design Development of a Purity Method Using UPLC and Mass Detection," which will help increase productivity and throughput with optimal results. (UPLC is ultra performance liquid chromatography.) The speakers, Alexander Schmidt and Mijo Stanic, managing directors at Chromicent GmbH, Berlin, Germany, are experts in the development and validation of analytical methods according to the latest quality-by-design (QbD) approaches, which comprehensively evaluate the impact of all components in a process in terms of yielding the desired result.
The aim of their recent work has been to apply QbD principles to build in a more scientific and risk-based, multifactorial strategy in the development of new ultra high performance liquid chromatography (UHPLC) methods. In this webinar, the speakers will describe the application of their approach in the development of a new purity method for a well-known API. The final method, with an analysis time of just 4 minutes, provides a 40-fold increase in productivity compared to the existing method published in the European Pharmacopeia.
Alexander H. Schmidt has worked for 25 years as head of quality control and lab manager of a development laboratory in a medium-sized, global pharmaceutical company. His expertise lies in the development and validation of analytical methods according to the latest QbD approaches, the qualification of analytical instrument (AIQ), increased efficiency in the laboratory, and good manufacturing practice (GMP) and compliance. He has authored more than 50 publications and scientific posters and is a guest lecturer at Beuth University, Berlin.
Mijo Stanic has worked closely with Schmidt for years as head of analytical development. He is an expert in QbD in the development of chromatographic separation methods and mass spectrometry. Stanic has co-authored numerous publications.
The free webinar, hosted by LabRoots, will be presented on October 28, 2014, at 7 am Pacific Time/10 am Eastern Time/3 pm GMT Standard Time.
For full details and free registration, click here.
About Waters:
Developing a good LC method is a little like the art of truing a bicycle wheel: Tightening a spoke in one place can lead to a warp on the opposite side of the wheel. Waters' technologies are designed to help you be more adept in how you achieve a true method.
About Chromicent GmbH
Since 2014, Schmidt and Stanic are managing directors of Chromicent GmbH, a pharmaceutical service provider with expertise in development of efficient and robust HPLC and UPLC methods. The company is located in Germany's leading science-and-technology park in Berlin Adlershof and close to 10 non-university research institutes, six natural sciences departments of Humboldt University, and some 1,000 businesses.
About LabRoots:
LabRoots is the leading professional networking website designed to connect all science verticals. Founded in March 2008, LabRoots' vision was to connect the scientific world leveraging a myriad of unique features and tools, discovering meaningful collaborations across geographic boundaries and fields of expertise. LabRoots is the owner and producer of BioConference Live – which has grown into the world's largest series of virtual events within the Life Sciences and Clinical Diagnostics community.