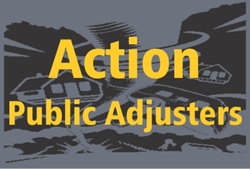 We get paid when you get paid!
Fort Lauderdale, Florida (PRWEB) October 29, 2014
Policyholders in every area of South Florida now have available to them, the comprehensive services of Action Public Adjusters, a trustworthy firm fully licensed and insured as independent insurance claims adjusters with excellent property loss skills.
Action Public Adjusters, by injecting new resources into its operations, and expanding its Water Damage claims adjustment services, can now easily accommodate and facilitate a greater number of clients on a timely basis, delivering the high-powered services for which the firm has been praised by peers and clients alike, over many years.
All individuals and businesses with insurance policies, and any type of Water Damage Claims, can approach Action Public Adjusters and access service. The firm works exclusively for policyholders, and not for any Insurance Company, and has already brought complete satisfaction to numerous clients over the years, having successfully negotiated claims on their behalf, and obtained the amount of compensation which the policyholders justly deserved.
Water Damage is easily caused by burst pipes, leaking pipes, under slab water leaks, mal-functioning household appliances, air conditioning units, overflow backups, poor weather conditions and disasters. Recovering compensation from Water Damage claims can be time-consuming, overwhelming, is a big burden on the insured and always proves difficult for policyholders if they are acting on their own accord.
Action Public Adjusters first inspects a Water Damage loss site, assesses the damages caused by the Water, identifying problems which may not have been immediately apparent, then gathers all of the data to fully support a claim, and accurately determines how much it will cost to rebuild or replace everything, to the original condition.
Another highpoint to the credit of Action Public Adjusters, and offering great advantages to policyholders, is the firm's capacity to coordinate emergency service needs when necessary and its willingness to instruct clients on their own important obligations to mitigate damage and reduce further damage. Insurance Policies are often complex, language is vague and many coverage questions remain uncertain. Action Public Adjusters reminds residents and businesses of the need for expert guidance in every aspect of claims filing Water Damage claims, especially the detailing of the insured loss and the relevant proof of that loss.
It is the firm's passion for work and ability to streamline the complicated claims assessment, preparation and filing process which distinguishes it from other firms offering claims adjustment services. Published testimonials shower compliments on the highly focused adjusters at Action Public Adjusters, particularly stressing the firm's ability to make the entire adjustment process less stressful for clients who are intimidated by the nightmare that claims adjustment often presents.
The CEO of Action Public Adjusters, in a statement today, said: "Our clients can expect unbiased, uncompromised representation on all aspects of their Water Damage claims. There is absolutely no inherent or other conflict of interest when we advocate on your behalf to the relevant Insurance Companies." The CEO stresses the importance for claimants to make direct contact with Action Public Adjusters, immediately Water Damage is experienced, in any form whatsoever.
Action Public Adjusters has the extensive resources, well-honed skills, negotiating techniques, and commitment to successfully representing the insured. The independent firm now brings its superior services to the entire South Florida region. Its promise remains valid and active: No Recovery No Fees. The firm conducts free inspection of Water Damage loss sites. A free, private Water Damage consultation is also offered to prospective Water Damage claimants, at which the potential claim can be fully discussed. Sound guidance is given and all professional courtesies are extended.
Action Public Adjusters handles all types of claims, but is presently focusing heavily on Water Damage claims, providing a full review of clients' insurance policy, assisting clients in complying with policy requirements, conducting a thorough evaluation of the entire loss, maximizing financial recovery, and ensuring the best possible final settlement in the shortest possible time frame.
For more information, contact: Action Public Adjusters
B. Yoel Anidjar
Phone: 954-709-4255
Email: claims(at)actionpublicadjusters(dot)com
Website: http://www.actionpublicadjusters.com
B. Yoel Anidjar Lic #: P190197