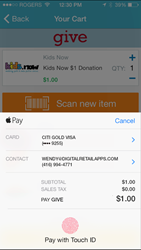 SelfPay and Apple Pay together are not just fast payments, they're fast payments without the wait...
Las Vegas, NV (PRWEB) October 29, 2014
Digital Retail Apps today announced the availability of its SelfPay mobile shopper app with Apple Pay integration. The company will demonstrate Apple Pay in-app integration with SelfPay at the 2014 Money20/20 Conference, November 2-6, booth #43 in Las Vegas. Apple Pay integration allows merchants to accept Apple Pay in-store and in-app through SelfPay, without the need for any NFC-enabled physical payment hardware at the checkout to support it. With this integration, Apple Pay joins previous support for credit card, debit card and PayPal payments through the SelfPay app.
"SelfPay's goal is to provide shoppers and merchants with a completely seamless and flexible shopping and paying experience," said Wendy MacKinnon Keith, CEO and Founder. "Mobile payments save time and are very convenient, but the larger amount of time wasted in store is what comes before; waiting in line to pay. SelfPay and Apple Pay together are not just fast payments, they're fast payments without the wait that comes before. That wait to pay is completely unnecessary in today's world."
SelfPay is an iOS and Android mobile app that enables shoppers to scan items at supported retail locations, view item details and pricing and pay for the item directly on their own mobile device. With full POS and payments integration, SelfPay allows shoppers to completely skip the checkout line. Positioned as a mobile wallet aggregator, SelfPay works with multiple POS systems, payment methods and merchant payment processors.
SelfPay receipts can be scanned by the patented companion associate app to confirm the transaction was successful as the shopper leaves the store.
To meet with Digital Retail Apps at Money 20/20, please contact Wendy MacKinnon Keith, CEO and Founder at 312.589.8696 or wendy(at)digitalretailapps(dot)com.
About Digital Retail Apps
Digital Retail Apps is a mobile payments service provider focused on providing retail shoppers with completely seamless in-store shopping and payments. The company's flagship mobile app, SelfPay, gives shoppers the ability to scan, shop and pay from anywhere in-store directly on their own mobile device. SelfPay Staff, a merchant companion app, allows store associates to verify each consumer SelfPay purchase and to take payments from any shopper anywhere in store. By integrating with multiple POS systems and ewallets, Digital Retail Apps unifies a fragmented brick and mortar shopping experience and provides an in-aisle shopping and payments solution that is always where the shopper is; across multiple retailers, carriers, devices and payment methods.
About Money20/20
Money20/20 is the world's largest event enabling payments and financial services innovation for connected commerce at the intersection of mobile, retail, marketing services, data and technology. With 7,000 attendees, including more than 600 CEOs, from over 2,250 companies and 60 countries, Money20/20 is critical to realizing the vision of disruptive ways in which consumers and businesses manage, spend and borrow money. The next Money20/20 will be held on Nov. 2-5, 2014 in Las Vegas, and will be preceded by the Money20/20 Hackathon, which runs Nov. 1-2. To learn more about Money20/20, visit http://www.money2020.com.
Media Contacts
Kevin Maher and Alyssa Scott
Money 20/20
Money20/20(at)cognitomedia(dot)com
Catherine Seeds
Ketner Group (for Digital Retail Apps)
Catherine(at)ketnergroup(dot)com
512.794.8876