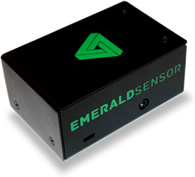 "We are very excited to bring EmeraldSensor to the market and are proud to be at the forefront of the IoT revolution." - Marcelo Tamassia, EmeraldCube Solutions
Atlanta. GA (PRWEB) October 28, 2014
EmeraldCube Solutions, an innovative provider of Managed Services and Business Intelligence solutions for JD Edwards customers, is pleased to announce the launch of EmeraldSensor.
The EmeraldSensor Platform is an end-to-end solution, from hardware to comprehensive analytics, which allows sensors to be connected and integrated directly with ERP systems. The sensors can collect data in virtually any environment, providing real-time data that can be accessed 24/7 by the user. This data can be utilized to provide insight and solve business problems that could not be previously accessed, enabling companies to become more proactive and efficient.
"We are very excited to bring EmeraldSensor to the market," said Marcelo Tamassia, partner, EmeraldCube Solutions. "Through the Internet of Things, everyday objects have network connectivity allowing them to send and receive data. The advances in computer miniaturization and proliferation of low cost electronic devices made economically viable to collect and analyze data using sensors in places and situations that were once unimaginable. We are proud to be at the forefront of the IoT revolution."
For more information regarding EmeraldCube Solutions and EmeraldSensor, please visit http://www.emeraldsensor.com.
About EmeraldCube Solutions
EmeraldCube Solutions provides JD Edwards customers with superior technical and analytical solutions to manage their JD Edwards business technology. With over 50 years of combined JD Edwards experience, EmeraldCube is an Oracle Gold Partner that delivers Configurable Network Computing (CNC), Managed Services, and SaaS based Business Intelligence (BI) solutions.