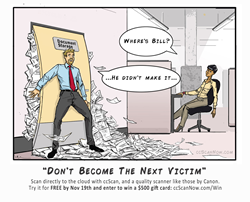 "We evaluated several different Salesforce scan-in products before choosing ccScan. After selecting the product we were up and running within hours - scanning all our contracts directly into Salesforce!" Josh Gettman - Anthony Robbins Group
San Juan Capistrano, CA (PRWEB) October 28, 2014
Salesforce users are invited to enter a contest held by ccScan software, a leading scan to the cloud solution. To enter, visit http://go.ccscannow.com/win/ and download a trial of ccScan. Prizes include a $500 Amazon gift card, plus weekly giveaways of $50.
"By integrating ccScan with Salesforce.com, and quality scanners like those from Canon users and administrators discover a dramatic increase in productivity." Said Clark Fegraus, CTO of Capture Components, developers of ccScan "Our software increases the value of the Salesforce.com system, while freeing up staff to focus on revenue generating activities."
As part of the campaign, ccScan has created a series of light-hearted office life comics. These custom illustrated cartoons present the challenges of excessive paperwork and struggles faced by Salesforce users. Released each week in partnership with the contest, these comics can be found on ccScanNow.com, and the ccScan Facebook and LinkedIn Pages.
The contest, which is now open, will end November 19th, 2014.
Companies looking to save time, money, and automate their business workflow will find ease and efficiency with the full range of ccScan products. The document capture software eliminates extra steps and allows users to scan documents directly into leading CRM and software applications. Features such as optical character recognition and barcode generation allow for complex sorting and retrieval of documents with minimal time and effort.
"We evaluated several different Salesforce scan-in products before choosing ccScan. After selecting the product we were up and running within hours - scanning all our contracts directly into Salesforce! Monte and the group were great; providing excellent service (even after hours!)." Josh Gettman - Anthony Robbins Group
About ccScan and Capture Components
Capture Components, the company behind ccScan, designs innovative capture and collection products for the digital world. The full range of ccScan products are built to capture, classify, and store information in as few steps as possible, allowing for unparalleled automation possibilities in both paper and paperless office environments.