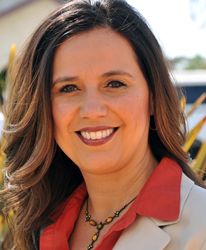 Minneapolis, MN (PRWEB) October 28, 2014
Christians for Biblical Equality (CBE) has announced that Adelita Garza will be joining Eugene Cho, Ken Fong, John Stackhouse, and Anne Zaki as a general session speaker for CBE's 2015 annual conference in Los Angeles, CA. Garza completes the general session speaker lineup for CBE's 2015 conference.
"We are pleased to welcome Adelita to our speaker lineup for Los Angeles," noted Florkime Paye, CBE's conference coordinator. "I am inspired by Adelita's dedication to creating safe, welcoming spaces that encourage all Christians to use their gifts freely. I am so excited and thankful to see the breadth of knowledge and experience that all our speakers for the Los Angeles conference bring to the table. I'm certain that all attendees will be captivated by God's gifting in each speaker. Their unique stories and devotion to Christ are changing the world."
Garza planted Puente de Vida / Bridge of Life Church in Santa Paula, CA. She is the lead pastor of both the Spanish and English congregations. Garza is passionate about seeing the lost come to Jesus and working toward the unity of the church. She is currently the president of the Police Clergy Council and the Light of the City Ministry in Santa Paula. She received a BA in church leadership at Bethany College and an MDiv at Fuller Theological Seminary.
Titled "Becoming New: Man and Woman Together in Christ," CBE's 2015 conference will be held at the Hilton Los Angeles Airport Hotel on July 24-26, 2015. Early-bird registration for CBE Los Angeles began in October 2014.
CBE will be announcing workshop speakers and more conference details in the coming months.
In its effort to advance a biblical foundation for gift-based rather than gender-based service, CBE sponsors annual conferences, facilitates local chapters, hosts an online book service, and publishes two award-winning journals. For more information, visit http://www.cbeinternational.org