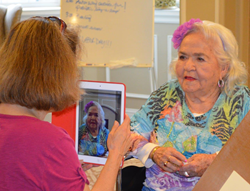 I have long wanted to do something meaningful for the residents and their families," Vicky says. "My drawing project is my work of love.
Pearland, Texas (PRWEB) October 29, 2014
Every Monday morning, Vicky Gooch arrives at Autumn Leaves of Pearland, Texas assisted living memory care community, armed with her pencils, paper, and easel. She takes a seat in front of the community's living room fireplace along with one of the residents. The others sit nearby, watching and waiting intently. And Vicky begins to sketch.
All of the residents of Autumn Leaves are living with Alzheimer's or another form of dementia. One by one, Vicky is creating portraits of each of the residents of the community where her mother, Lorna Gemmell, has lived for the past two years.
"I have long wanted to do something meaningful for the residents and their families," Vicky says. "My drawing project is my work of love."
Vicky, a professional portrait artist, has sketched portraits of 24 of the community's residents so far. She gives each original to the resident's family as a gift, at no charge, and a copy to the community. Framed copies of the portraits are displayed in the community's hallway.
Some have lost most of their verbal abilities due to the disease. Yet Vicky feels that, in working on the sketches, she's making a deep, if brief, connection with each resident.
"One of the first portraits I did was for a resident who was always very cranky," she said. "While I worked on her portrait, she smiled. It was an intense smile, nothing I would expect to see from her. It made me feel as if she wished to connect in the purest way: heart to heart." The resident passed away a few days later. Her portrait is still on the wall.
This connection with each resident is evident in the portraits. Not only is each sketch an incredible likeness, but Vicky somehow manages to draw the facial expression that, family members say, captures the essence of each person.
"Family members will tell me, 'That looks just like Dad, but 10 years ago,'" she said. "No matter how limited the resident's abilities may be, there is still a lot in there. With people with Alzheimer's, we just don't always stop to pay attention and notice."
Each sketch requires about 1.5 to 2 hours of effort. Many residents cannot remain calm and alert more than a few minutes at a time, so Vicky uses her iPad to take a photo of the resident at the beginning of each session.
Vicky says that the family members of residents of Autumn Leaves of Pearland have formed a sort of fellowship. "We're all going through the same thing, watching a loved one who is slowly and painfully going away," she said.
The sketching project has become her gift to offer to that group, as well as a way to get to know many of the residents and to appreciate their personalities. One resident, she said, burst into a song as she sketched his portrait. Even though his ability to speak is limited, he sang with a beautiful and strong voice.
"We asked him where he learned to sing," Vicky recalled. "He said, 'I don't know. I wish I knew.'"
Vicky sometimes gets input from caregivers or family members as she draws. When she sketched a portrait of another resident, Dora, a family member explained that Dora raises her eyebrows when she is very interested in what is happening. Vicky looked to capture that expression in her sketch.
As she sketches, Vicky stops occasionally to share her progress with the residents. Some are more interested than others, but her mother is always proud.
And it's a contribution that Vicky loves to share.
"I believe that art enriches our lives," Vicky says. "I feel very blessed to be able to bring my artwork into this community as an experience to be enjoyed and a way to remember our loved ones."
ABOUT AUTUMN LEAVES
Family owned and operated memory care assisted living communities, Autumn Leaves® is dedicated to serving those living with Alzheimer's and dementia. Autumn Leaves communities are committed to providing exceptionally high-quality care and research-based programs that allow for safe, secure, and active environments for its residents. An acknowledged leader in memory care, Autumn Leaves combines clinical expertise, knowledge of dementia, and heartfelt compassion to create the best possible care environment. Autumn Leaves currently operates 36 communities in 4 states with the ability to serve more than 1,800 residents. For more information, visit AutumnLeaves.com or call 888-662-8886.