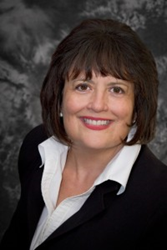 Dreussi-Smith has many years of experience implementing the public health model to promote health and wellness initiatives in her role as an addictions prevention specialist, program manager and community consultant.
CUMBERLAND, Md (PRWEB) October 29, 2014
Strategies for lifting people out of poverty, especially that which persists for generations, will be presented at the 48th annual Institute on Medicine and Religion, scheduled Friday, Nov. 14, at Allegany College of Maryland.
Bridges Out of Poverty: Strategies for Professionals and Communities offers concepts for redesigned policies and services to move families and young people from poverty embedded through generations.
Terie Dreussi-Smith bases her presentation on her book (with co-authors Philip DeVol and Ruby Payne) of the same name which advocates a redesign of health and behavioral programs to increase chances of moving people from welfare to work.
Dreussi-Smith, who is supervisor of prevention services at a substance abuse treatment agency, was instrumental in redesigning the organization's programs for prevention and early intervention with clients in generational poverty.
She is also a former public school teacher with many years of service and an adjunct faculty member at several colleges, where she has focused on empowering adults to transition from poverty.
As a consultant with youth-based service agencies, community coalitions and schools, Dreussi-Smith has assisted communities in embedding Bridges Out of Poverty concepts in redesigned policies and services for families and young adults in generational poverty.
The day-long program for social services providers, health care professionals and community organization staff, features a panel discussion of poverty issues in the local area to increase understanding and create opportunities for success.
Panelists represent the broad focus on poverty from areas including faith, government, finance, education and health care.
They are: the Rev. Tormod Svensson, board member, Allegany County Human Resources Development Commission; Robin Summerfield, field representative, U.S. Sen. Ben Cardin, D-Md.; Sandi Rowland, director, Community Trust Foundation; Dr. Ben Brauer, supervisor of student services, Allegany County Schools; DeAnn Greenawalt, director, ACM Pathways for Success program; and Dr. George Garrow, former chief medical officer, Western Maryland Health System.
The annual institute is co-sponsored by the WMHS's Pastoral Care department, the Community Wellness Coalition and the Center for Continuing Education and the Integrative Health program at ACM.
Bridges Out of Poverty meets from 8:30 a.m. to 4:30 p.m. in the College Center's Zimmer Theatre. Lunch is provided. The program is a continuing education opportunity for physicians, nurses, social workers, psychologists, counselors, therapists and clergy persons. Interested members of the community are also invited to register.
The deadline to register is Nov. 7. For more information contact the WMHS Pastoral Care department at 240-964-8282. Information is also available on the WMHS website, http://www.wmhs.com.