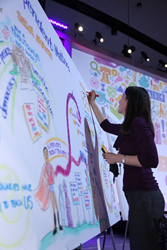 Fortune 100 companies and national conferences across the globe are tapping into graphic recording to take important concepts to the next level
Denver, CO (PRWEB) October 29, 2014
Graphic recording expert, Alece Birnbach, has partnered with Success 3.0 Summit, being held next week in Boulder, to graphic record the first visioning event in Boulder this week. The invitation-only Summit will bring together many of the world's foremost thought leaders to discuss the future of conscious living, innovation, and social impact.
The graphic recording industry has exploded. From Disney to Live Well Colorado, companies across the world are tapping into the power of live graphic capture to help participants understand and retain material and concepts communicated at meetings and events. Graphic recording professionals are used to map concepts and ideas visually to help clarify abstract or complicated concepts.
"I am absolutely thrilled to be illustrating in real-time the ideas and discussions by these incredible change-makers about the impact of creative collaboration on our global future," said Alece Birnbach, owner of Graphic Recording Studio. "Fortune 100 companies and national conferences across the globe are tapping into graphic recording to take important concepts to the next level."
More than just graphically recording the discussions, these visuals that are drawn live spark new creativity and problem-solving for participants.
The purpose of Success 3.0 Summit is to bring key thought leaders together in an intimate setting to explore new collaborative ideas on solving global issues. An exclusive group of 350 invite-only attendees, the high profile attendees will work together all four days of the summit where participants and speakers join together to explore and articulate a new model of success for the future.
A few of the high profile speakers include Arianna Huffington, President and Editor-in -Chief, Huffington Post; Ken Wilber, Author, The Integral Vision; John Mackey, Co-Founder and Co-CEO, Whole Foods; Alanis Morissette, singer/songwriter and activist; Tony Hsieh, CEO, Zappos; and Blake Mycoskie, Founder of TOMS shoes.
About Alece Birnbach and Graphic Recording Studio,
Founder of Graphic Recording Studio, Alece Birnbach brings experience as a fine artist, illustrator and 20 years as an advertising art director to her clients. This unique combination of skills and experience gives Birnbach the ability to listen differently to what clients need and to capture and organize ideas quickly, always with sustainable outcomes in mind. Birnbach has created live maps of keynotes, concurrent sessions and panel discussions, board retreats, and vision and planning meetings, as well as infographics and animated videos. Clients have included AT&T, Allstate Insurance, Bayer, The Bill and Melinda Gates Foundation, Boston Scientific, Chevron, Disney Learning Center, GlaxoSmithKline, IDEO, Kresge Foundation, Lexmark, Pfizer, National Association of Independent Schools, National Association of Realtors, National Security Administration, US Fish and Wildlife Refuge, Verizon, The World Bank, Turner Entertainment, University of Colorado, and White Wave Food to name a few.