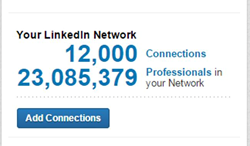 Once you connect with someone, you can open a dialogue with them about working together in some capacity.
Fort Lauderdale, FL (PRWEB) October 27, 2014
Evan Weber, CEO of leading digital advertising agency Experience Advertising, Inc., has exceeded 12,000 connections on LinkedIn. LinkedIn is the world's largest business-oriented social network. Experience Advertising is a digital marketing agency that implements and manages online marketing and social media strategies for both large and small ecommerce companies. Evan Weber has been in the online marketing industry since the late 1990's and started using LinkedIn shortly after its launch in 2003.
Founded in 2003, LinkedIn connects the world's professionals to make them more productive and successful. With more than 277 million members worldwide, including executives from every Fortune 500 company, LinkedIn is the world's largest professional network on the Internet. The company has a diversified business model with revenue coming from Talent Solutions, Marketing Solutions and Premium Subscriptions products. Headquartered in Silicon Valley, LinkedIn has offices across the globe.
Weber stated, "I consider reaching 12k on LinkedIn a major milestone. I began using LinkedIn right after it launched because I saw the potential it held to build a vast portfolio of connections. I have been adding connections in my industry for years by sending invites proactively and accepting invites sent to me. LinkedIn has wonderful tools for building connections and they should be used as frequently as possible. Once you connect with someone, you can open a dialogue with them about working together in some capacity. LinkedIn acts as my online 'Rolodex', as well as a great way for people to find my profile that may be looking for my type of marketing agency. You truly get out of it what you put into it."
Over the last 7+ years, Weber's digital marketing agency Experience Advertising, Inc. has become one of top digital advertising agencies in the ecommerce space. Experience Advertising, Inc. provides an array of essential e-commerce strategies and management in channels such as:

Digital Marketing and Social Media Consulting
Affiliate Program Management - in-house, major networks and CPA networks
Social Media Management - proactive social channel management
Facebook & Twitter Advertising Management - fan acquisition and revenue generation
Retargeting ads to web visitors and customers
Paid Search Engine Management - Google Adwords and Bing Ads
Content and Online PR
Conversion Rate Optimization - on-site multi-variate testing
Customer Loyalty Programs - customer referral programs, customer loyalty strategies
Sweepstakes and Contests - designed to building fans, opt-ins, and followers
Email Newsletter - HTML design, email list monetization
Webdesign - refurbishing or complete redesigns
Programming - front end and back end coding
If you would like to connect with Evan on LinkedIn, you can visit his LinkedIn Profile here:
http://www.linkedin.com/in/evanweber1/