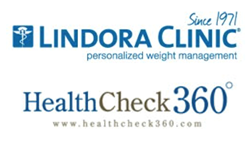 "HealthCheck360° is an ideal partner as we both understand that employers need innovative solutions to promote employee health and control costs," said Lindora President and CEO Cynthia Stamper Graff
Costa Mesa, CA (PRWEB) October 29, 2014
Lindora, the nation's largest medical weight loss program, will join forces with HealthCheck360°, a top provider of employee wellness programs, effective Nov 2014. Boasting more than 40 years of clinical success with 79% of patients keeping the weight off, Lindora will offer its online program to over 100,000 workers via HealthCheck360°'s vast network of clients.
"With employee medical costs rising each year and insurance premiums continuing to increase, one sure way of keeping costs down and productivity up is improving employee health," said Michael Kelly, director of HealthCheck360°. "We are delighted to welcome aboard Lindora, whose proven weight loss program has helped countless individuals achieve their goals through its 'eat better, move more and stress less' philosophy. With obesity being a key factor in the growing incidence of diabetes, hypertension, stroke, heart disease and many other conditions, this will be one of the key components of our program."
Lindora's Lean For Life® Online helps participants achieve safe, rapid weight loss results with many losing 10% or more of their body weight in just 10 weeks. Without having to calorie count or eat special foods, the program is simple to follow and participants receive weekly support from a dedicated health coach, a copy of "The New Lean for Life," daily email support, access to the Lean for Life® Online portal, Lindora's Fat Burning Indicator Strips, a sample box of Lindora protein snacks and a 10-week membership to SpiroLean, an online fitness program offering live and on-demand exercise classes.
"HealthCheck360° is an ideal partner as we both understand that employers need innovative solutions to promote employee health and control costs," said Lindora President and CEO Cynthia Stamper Graff, author of the recent "The New Lean For Life" and its forbearer, "Lean For Life," which sold more than 1 million copies.
Employers offering the Lean for Life® Online program through HealthCheck360° have the added flexibility of determining the type of incentive and reimbursement options offered to their employees. They also have support from HealthCheck360° in rolling out the program to employees and health improvement analysis associated with annual biometric screenings.
About HealthCheck360°
Founded in 2007, HealthCheck360° is a leader in providing performance-based wellness solutions with an emphasis on on improving employee health while minimizing employer costs. Headquartered in Dubuque, IA and providing service nationwide, HealthCheck360° also partners with brokers, consultants, third party administrators, and insurance companies for a complete integration of services. For more information visit Healthcheck360.com
About Lindora®
Lindora combines diet, moderate exercise and motivational tools to help patients become Lean for Life. Its success is due to a structured diet plan that allows for rapid weight loss; intensive support; and a 12-month follow-up maintenance program that provides patients with the eating and coping skills necessary for long-term success. For more information visit Lindora.com