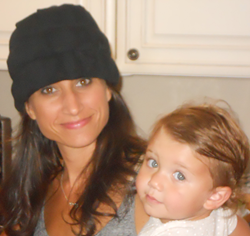 "The Headache Hat is an ice pack improved 1000%. It is the perfect thing to reduce your pain when…taking care of kids, jobs, errands and your head is killing you." - Lisa Jacabson, Migraine Blogger
Fairfield, CT (PRWEB) October 29, 2014
The Headache Hat Wearable Ice Pack might be just what's needed to manage migraines and headaches throughout the holiday hustle. And for under $30, it makes a perfect gift for the headache sufferer.
The Headache Hat is a unique wearable ice pack that delivers long lasting cooling therapy during a migraine headache, plus it adjusts to apply the desired pressure, and stays in place "hands free" on the pain points. It's surprisingly lightweight, comes with its own storage bag, and is flexible right out of the freezer. And unlike most drug store gel packs, the Headache Hat won't quickly melt - the 21 individually wrapped ice packets stay cold for longer than most gel packs, and it also comes with a soft fleece cover that allows the user to regulate the temperature. The Headache Hat can be used in conjunction with medications or for battling headaches without the use of pills.
The Headache Hat was created by Sherri Pulie, a working mother of two young children who has suffered from headaches and migraines for more than 25 years. Her start up product has been gaining steam this year, as neurologists, therapists and migraine bloggers have shown support of her product - not to mention the rave reviews from customers as well.
Neurologist Peter McAllister, M.D., has been selling the Headache Hats at the New England Institute for Neurology and Headache, where he is Medical Director. He has also offered insight into why neurologists believe ice works on headaches and migraines, which is posted on http://www.theheadachehat.com.
Migraine Blogger and founder of The Daily Migraine, Lisa Jacabson bought the Headache Hat as a secret shopper and then gave her review on her blog, stating "The Headache Hat is an ice pack improved 1000%. It is the perfect thing to reduce your pain when…taking care of kids, jobs, errands and your head is killing you."
The "hat" can be worn at all times in the desired position resting, working, cooking and doing household chores, or pulled down over the eyes to block out light and feel the cooling over the eyes.
The Headache Hat Plus is also available – the Plus version contains an attachment belt that allows you to wear the wrap on nearly any body ache.
The Headache Hat can be purchased for $26.99 via http://www.theheadachehat.com or for $27.99 through Amazon. Orders currently ship out within 4-5 days. For more information and photos, visit http://www.theheadachehat.com