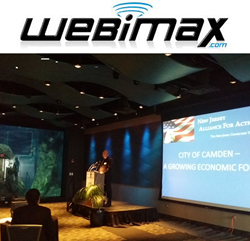 ...we felt relocating to Camden was an opportunity to be part of what feels like a real renaissance for the city.
Camden, New Jersey (PRWEB) October 28, 2014
In a speech to the New Jersey Alliance for Action that introduced Camden to WebiMax, Ken Wisnefski cited the NJ Economic Opportunity Act, signed by Governor Christie just over a year ago, calling it "a leap forward for attracting businesses to Camden." The NJ Economic Opportunity Act contains incentives that are attracting a coalition of businesses that are bringing an influx of investment, development and most importantly permanent jobs to Camden. WebiMax is the first company to take advantage of this opportunity and is in the process of moving into their new home, bringing 100 jobs into the city and plans to add 100 more over the next decade.
Ken Wisnefski also commented on the increase of police officers over last year of 127 for a total of 377 officers now patrolling the streets. Currently there is another class of cadets in training that will increase the force to over 400. "Incentivizing investment was one piece of the puzzle, but nearly doubling the police force was no small gesture and shows Camden is taking public safety very seriously," Wisnefski said.
"When I first heard about all the positive things that were happening in Camden, I became very intrigued. But once some of the economic and public safety measures started to fall into place, we felt that relocating to Camden was an opportunity to be a part of what feels like a real renaissance for the city," said Ken Wisnefski. "As a New Jersey business owner I'm excited and proud that WebiMax can be a part of the positive changes that are taking place here, plus you won't find a better view of the Philadelphia skyline than the new WebiMax offices!"
WebiMax will complete their move into their new home at 2 Aquarium Drive (next to the Adventure Aquarium) by the end of 2014. Two other notable groups that will be joining WebiMax on the waterfront shortly thereafter are The Philadelphia 76er's practice space and front office operations and energy company Holtec International, with more to surely follow.
WebiMax is renowned worldwide for being one of the most reputable online marketing firms. The company has been featured on MSNBC, The Wall Street Journal, Entrepreneur Magazine, Inc. magazine and other reputable media outlets. Located in New Jersey, WebiMax boasts more than 100 full time employees who adhere to the full-service approach to web-based marketing. The company works with large corporations as well as new start-ups and grants the same importance to each. WebiMax is led by Founder and CEO Ken Wisnefski using the experience and knowledge that he has acquired in his more than 10 years of successful internet marketing. Another unique advantage of WebiMax is that they do not require you to sign any long-term contracts. Rather, you can take advantage of their services on a monthly basis. All new customers get a free marketing analysis to help them decide if WebiMax is the right agency for them. For more information, visit http://www.webimax.com.