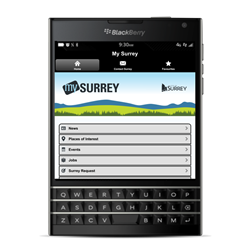 Governments are attracted to solutions that are reliable, proven and secure; a belief that we strongly share with BlackBerry in the services we offer - Brian Hurley
Ottawa, Ontario (PRWEB) October 28, 2014
Purple Forge's Smart City Mobile Applications Service will be on display at the BlackBerry booth at this year's GTEC conference (Booth #907) in Ottawa, Canada. My Surrey, the umbrella mobile application recently released by the City of Surrey will be showcased on the latest BlackBerry Passport devices.
"We are glad to have been selected by BlackBerry to showcase our mobile application on the BlackBerry Passport to illustrate how governments can connect with their citizens," stated Brian Hurley, CEO of Purple Forge. "Governments are attracted to solutions that are reliable, proven and secure; a belief that we strongly share with BlackBerry in the services we offer."
Purple Forge, the leading provider of mobile applications to cities, counties and governments in Canada, has also deployed BlackBerry apps to a number of other smart cities including the City of Regina, City of Ottawa and the City of Calgary.
About Purple Forge
Purple Forge (http://www.purpleforge.com) sells subscription based services to organizations looking to engage their stakeholders using the latest mobile application technology and leveraging community engagement and social networking best practices. Purple Forge is an award-winning firm led by seasoned mobile communications and Internet technology veterans. Our mobile applications allow organizations to broadcast, share, and receive feedback from their target audience real-time, allowing them to foster long-term, engaged relationships.
Contact: John Craig, john(dot)craig(at)purpleforge(dot)com