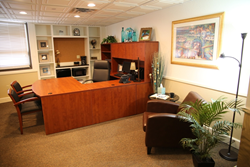 We want to offer businesses affordable office solutions that can be fully personalized within a qualified Christian environment.
POMPANO BEACH, Fla. (PRWEB) October 28, 2014
The Forum is now offering companies top-notch services with any of their Traditional Office, Executive Suite or Virtual Office packages that can be customized to fit your specific business needs.
Located in Pompano Beach, Fla., The Forum's Conference Center Complex provides the ideal space for your business needs – whether you are in need of conference space, office space for your business, or an area for hosting a special event.
The Traditional Offices can range from as small as 170 square feet up to 20,000 square feet. The Executive Suites are more than 300 square feet each, offering above-market features at below-market costs. With the Virtual Offices, a skilled staff and advanced technology will allow a business to experience all of the benefits that an actual office environment contains while continuing to work from home or travel depending on the company.
There is a variety of benefits in leasing space from The Forum Offices. Tenants receive the following assets in addition to a Christian-based environment: Fully customizable, build-to-spec Traditional Offices and Executive Suites; Virtual Office packages available; 24/7 building access and digital recording security camera system; Conference rooms and training rooms; Multi-media conferencing; Complete mail service with daily service by UPS and Federal Express with convenient drop boxes; Break room amenities with food and beverages available; Standard use Wi-Fi for Executive Suites; Free parking; All utilities included; Nightly janitorial service package available for purchase; Onsite fitness center with tenant discount; Onsite preschool with tenant discount; Hotel and guest rooms available on the property; and, Centrally located and close to I-95.
"We want to offer businesses affordable office solutions that can be fully personalized within a qualified Christian environment," said Jon Laria, CFO of The Forum Offices. If you are a parent of younger children, one major component of leasing office space through The Forum is that preschool services are available throughout the day. In fact, the For Him Christian Academy has recently been selected for the 2014 Best of Pompano Beach Award in the Preschool category by the Pompano Beach Award Program. This really benefits those who are working parents, and cannot afford a full-time daycare or babysitter.
About The Forum Offices
The Forum Offices is a newly renovated, beautifully maintained, fully customizable solution for your Christian-based or for-profit business. Designed with excellence in mind, The Forum Offices offers an array of professional services to help you operate your business efficiently in a Christ-centered environment alongside other likeminded believers. Located in sunny Pompano Beach, Fla., The Forum is centrally located to a variety of church organizations, shopping, fine dining, the beach, tourist attractions, and much more. For further information, please visit http://www.forumexecutivesuites.com/.
###