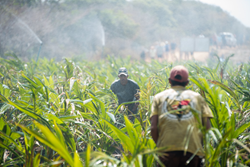 Liquid Investments have completed development of a new dam, which will contain enough water to supply the needs for the whole 1,200 hectare site.
(PRWEB) October 28, 2014
Liquid Investments hosted a successful Plantation Tour and Primal Investing Summit in north-eastern Brazil, where they were joined by Keynote Speaker and Chief Guest Jim Rogers alongside a selection of business leaders including Senior Executive for IBM Latin America Jesus Mantas, economic consultant for the World Bank Eduardo Zylberstajn and cross-border legal specialist Joel M. Nagel.
Attendees were guided through a tour of Liquid's Coconut and Neem plantations, where they were shown the significant developments to infrastructure made over the past year. This included an overview of the state-of-the-art irrigation and fertigation systems that have have been installed, as well as the recent completion of a second dam, which will contain enough water reserves to supply the needs for the whole 1,200-hectare site.
With a four-man camera-crew, a photographer and an increasingly ubiquitous quad-copter, Liquid Investments have returned from their plantation Tour with over 1,000 photographs and 173 hours of video footage.
A selection of photographs is available to view in the Liquid Investments photo gallery, and video coverage will be made available in the coming weeks. This will focus on different aspects of the Brazilian operations, and include interviews with the Liquid team, insight from Jim Rogers and footage from the Primal Investing Summit.
For further information on the green investment opportunities offered by Liquid Investments, visit their website. If you would like to get in contact with one of their Investment Consultants, please request a callback.
Note to Editors:
Liquid Investments is a provider of global investment solutions allowing institutional and private investors the opportunity to accumulate wealth through safe and secure alternative investments in emerging markets.
Founded in 2006, the organisation is headquartered in Knightsbridge, London and with an office in Fortaleza, Brazil.
For further information:
Jayshree Badhan, Chief Marketing Officer – Jayshree.Badhan(at)liquid-investments(dot)com