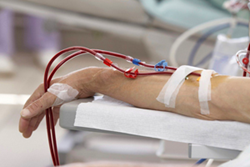 If you've been injured and would like to learn more about filing a lawsuit, contact The Oliver Law Group P.C. for your free lawsuit case review by calling toll free 800-939-7878 today or visiting www.legalactionnow.com
(PRWEB) October 28, 2014
GranuFlo Lawsuit News: As selection of cases for bellwether trials is underway, recalled GranuFlo and NaturaLyte lawsuits continue to be filed in the U.S. District Court, District of Massachusetts. The GranuFlo and NaturaLyte lawsuit cases pending in the multidistrict litigation now number 2,127 as of October 15, an increase from September 15 when the cases numbered 2,089, according to the court's master case list. The GranuFlo and NaturaLyte lawsuits have common allegations of dialysis patients or their survivors who were seriously injured or died due to the side effects of GranuFlo and NaturaLyte, which are used to treat acute and chronic renal failure during hemodialysis. The GranuFlo complaints contend that Fresenius Medical Care North America, which manufactures the two dialysis drugs, failed to warn doctors and their patients about the risks associated with GranuFlo and NaturaLyte, which includes heart attack, stroke, and sudden cardiac death.
(In re Fresenius GranuFlo/Naturalyte Dialysate Litigation, MDL No. 2428)
[jpml.uscourts.gov/sites/jpml/files/Pending_MDL_Dockets_By_District-October-15-2014.pdf, October 15, 2014]
[jpml.uscourts.gov/sites/jpml/files/Pending_MDL_Dockets_By_District-September-15-2014.pdf, September 15, 2014]
Risks associated with GranuFlo and NaturaLyte:

Heart Attack
Stroke
Sudden Cardiac Death
Court documents indicate that U.S. District Judge Douglas P. Woodlock, who is presiding over the multidistrict litigation in the Massachusetts federal court, has scheduled the first GranuFlo bellwether trial for January 11, 2016, and the second trial for February 16, 2016. (In re Fresenius GranuFlo/Naturalyte Dialysate Litigation, MDL No. 2428) Judge Woodlock issued a Case Management Order (CMO) in April directing attorneys for the plaintiffs' and defendants to choose 10 cases each with claims that are representative of the issues in the litigation. The CMO maintained that the initial pool of cases should present such issues as whether the alleged injury occurred before or after November 4, 2011. The GranuFlo and NaturaLyte lawsuits in MDL 2428 allege that Fresenius sent an internal memo dated November 4, 2011, to dialysis treatment centers that it owned advising doctors to monitor the bicarbonate levels of their patients during dialysis. The GranuFlo complaints contend that Fresenius did not notify doctors and patients at other non-Fresenius dialysis clinics until March 2012.
[mad.uscourts.gov/worcester/pdf/sj2428case10.pdf, April 8, 2014]
The GranuFlo and NaturaLyte dialysis solutions were recalled in 2012. Fresenius notified clinics and their patients in March 2012 that an inappropriate prescription of the medications can lead to metabolic alkalosis, a condition that causes high bicarbonate levels in dialysis patients. According to Fresenius, the elevated bicarbonate levels could contribute to low blood pressure, heart attacks, strokes, hypercapnia (carbon dioxide poisoning) hypoxemia (low oxygen in the blood) and sudden cardiac death. The U.S. Food and Drug Administration (FDA) issued a safety alert about Fresenius' warning and in June 2012, the FDA gave the company's March notification Class 1 recall status.
[fda.gov/Safety/MedWatch/SafetyInformation/SafetyAlertsforHumanMedicalProducts/ucm305630.htm, June 27, 2012]
[fda.gov/MedicalDevices/Safety/ListofRecalls/ucm309990.htm, FDA, February 20, 2014]
Court records indicate that the state of Louisiana filed a GranuFlo lawsuit in June 2014 against Fresenius and its nearly 100 dialysis treatment clinics in Louisiana. The lawsuit contends that Fresenius notified its own clinics, practitioners and physicians about the concerns over GranuFlo and NaturaLyte but did not notify the approximately 1,500 non-Fresenius clinics, practitioners and physicians about the problem. Louisiana's lawsuit alleges that Fresenius deceived the state into believing that GranuFlo and NaturaLyte were safe and submitted requests for Medicaid reimbursements. Louisiana's complaint further alleges that Fresenius defrauded the state's Medicaid program by failing to disclose the risk of heart attacks associated with the dialysis solutions. Louisiana's lawsuit was filed in the 19th Judicial District Court, Parish of East Baton Rouge.
(The State of Louisiana vs. Fresenius Medical Care, Case No. 631586).
There Is Legal Help If You Suffered Granuflo Naturalyte Heart Problems
If you or someone you love suffered a heart attack, stroke or other potentially deadly heart problem following the administration of GranuFlo or NaturaLyte, you can take action. Alleged victims of GranuFlo heart problems can trust The Oliver Law Group P.C. to aggressively represent their interests against Fresenius Medical Care. Please contact one of our GranuFlo recall lawyers today for a free, no obligation Granuflo lawsuit review of your case. If you have a valid claim and decide to pursue your GranuFlo| NaturaLyte lawsuit, you can be confident that the legal staff at The Oliver Law Group P.C. will work to ensure that you are treated fairly and receive the justice you deserve.
About The Oliver Law Group P.C.
The Oliver Law Group P.C. is a different kind of national law firm. One that focuses on the needs of the injured first. A compassionate law firm dedicated to fighting for the rights of victims and their families, and doing everything necessary to ensure those rights.
The experience of a large firm. The 1-on-1 dedication of a small firm. A reputation built on trust.
Experience. Dedication. Trust. The Oliver Law Group P.C.
If you've been injured and would like to learn more about filing a lawsuit, turn to the law firm with the Experience, Dedication, and Trust you deserve. Contact The Oliver Law Group P.C. for your free lawsuit case review by calling toll free 800-939-7878 today.