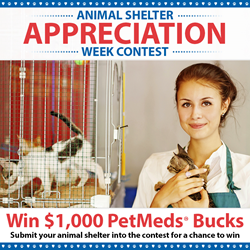 POMPANO BEACH, Fla. (PRWEB) November 03, 2014
1-800-PetMeds®, America's Largest Pet Pharmacy®, is celebrating National Animal Shelter and Rescue Appreciation Week by hosting a contest for US shelters and rescue groups. The contest, which started today, will be open to entries until November 9 at 11:59 p.m. EST.
To enter, a representative of the group must visit the contest link or the PetMeds Cares Facebook page, fill out the entry form and submit a photo, capturing something unique about the group. After the entry period closes, voting will begin. Anyone 18 and older is eligible to vote once a day until voting closes on November 16 at 11:59 p.m. EST.
The rescue group with the most votes will win $1,000 PetMeds Bucks, redeemable online or over the phone with 1-800-PetMeds. The group with the second-most votes will win $500 worth of 1-800-PetMeds' flea prevention, Flea3X and Flea4X, while the group with the third most votes will win $250 worth of Flea3X and Flea4X.
National Animal Shelter and Rescue Appreciation Week was started by the Humane Society of the United States to encourage people to become better acquainted with their local shelters and learn how they can assist in the lifesaving work.
"We wanted to recognize the hard work and dedication of animal shelters and rescue groups during this week," said Alex Irvin, online programs director at 1-800-PetMeds. "We currently support animal rescue and adoption through our PetMeds Cares donation program and our adoptable pet blog posts, but we wanted to take it a step further and get communities involved. By introducing voting, we're encouraging people to take an interest in their local rescue groups and help them win."
1-800-PetMeds is requesting that entries are completed only by representatives of the rescue groups themselves, to prevent duplicate entries and to ensure the provided information is correct. However, pet lovers are encouraged to reach out to their favorite animal shelter and rescue groups to tell them about the contest, and then vote for them to win.
About 1-800-PetMeds®
Founded in 1996, 1-800-PetMeds is America's Largest Pet Pharmacy and Vet-VIPPS accredited, delivering prescription and non-prescription medications, and pet supplies for less, direct to the consumer through its 1-800-PetMeds toll free number and on the Internet through its website.